Talking with Nintendo of America President Reggie Fils-Aime, Part 3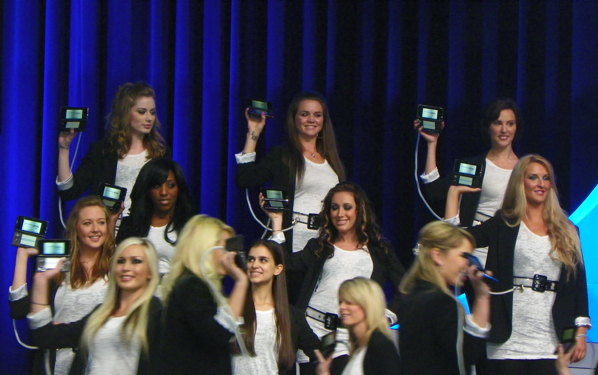 Posted by Evan Narcisse on
In this final part of my E3 interview with Reggie Fils-Aime (check out parts one and two), Nintendo's idea-centric approach to gamemaking and how it informed the creation of the upcoming 3DS handheld-gets discussed. He also talks about Hollywood's interest in the device as a 3D-capable platform and how movies might find their way onto it. Finally, he admits the one area where the current leader in the video game space needs to improve.
At the press conference, there seemed to be a curious lack of anything on the Vitality Sensor. The perception is that's one of Mr. Iwata's pet projects and people were surprised there was no update on it. Can you explain the decision not to talk about it at all?
Sure. It's a very easy decision. E3 is about excitement. This show is for folks like yourself running from booth to booth, interview to interview. It is high-stress, high-pressure, high activity.
That sounds like a great place to test a Vitality Sensor, Reggie.
It's actually the perfectly opposite place for a product like the Vitality Sensor.
How so?
Our concern was that people are so amped that to show a product that by definition is about looking inward and being calm and, if you will, listening to your body, that it was just not the right place. So we're going to show it, it's continuing on track, but we made decision not to show it here.
Okay. But you guys obviously are talking about a new hardware with the 3DS. So walk me through a little bit with regard to the decision to implement 3D. Mr. Iwata has said that Nintendo's always working on hardware. For example, with the first version of the DS, you decided its features and what the DS is going to be and locked in the specs, the hardware, the form factor. Once that's done, on to the next thing, right? At some point, there's a continuous product development curve.
Right.
At what point does this new thing-which is now the 3DS-become the way you deliver 3D? When was that big decision made?
So there are a couple of other insights to Nintendo product development. First, when we have an idea stuck in our heard, we keep working on it and 3D has been stock in our heard for 15 years.
Okay. Going back to what?
Virtual Boy.
So, you're saying there's a legacy there.
Absolutely. Second, we were fortunate that we have software developers side by side with our developers. And when the software developer comes up with an idea that can't be done with the current system, that's when hardware development for the next generation truly begin to earnest.
Project Sora, which began what? Just over a year ago. You know, I wasn't there but I suspect someone came forward with an idea that said, you know, the technologies at the point where a 3D game can be done and we have got a perfect franchise to do it with, and it's "Kid Icarus" [which started as Project Sora].
So if I can paraphrase, you're saying essentially, "Hey, we have got this tech that can do this." And then–
It starts with, "We've got an idea." We have been working with this technology for a long time, suddenly, the tech capability has caught up with our vision and we have this creative idea to bring it to life, now it's time to go.
It's funny, because "Kid Icarus" is one of those Nintendo properties that people have been champing at the bit for ages. You guys always marry these beloved first-party characters to new innovations of hardware. Is that just canny planning? What's the idea behind that? I mean, why wasn't Mario the character who was used to debut the 3DS versus lead character Pit from "Kid Icarus," for instance?
Well, "Kid Icarus," because of the flying and the ground battle, really is tailor-made for the 3D type of experience. There's another way to think about this, though. I mean, yes, we are fortunate that we have a veritable vault of fantastic franchises. But the other thing that we pride ourselves is constantly looking for new experiences and new franchises. You know, I am absolutely looking forward to "Kid Icarus: Uprising." But, the next game I personally will buy will be "Steel Diver," because that's another one that, to me, in a 3D environment plays exceptionally well.
There's a lot of talk about other content partners, non-game content partners showing up on the 3DS. What's going to be the delivery system there? Download, SD cards?
We haven't finalized it. We haven't finalized the business terms for something like movies. But the great news is that we do have a variety of different options.
I feel like consumers are so used to going into an online hub, be it an App Store or whatever, and getting their content that way. Do you guys feel confident in building such an infrastructure or are you going to leave it up to the partners, the movie studios and such?
Let's take this out of specifically movies. One of the things I love about this company is that we constantly look at our performance, and even when we are dominating a particular generation, we look hard to say what can we do better. And as we sit here today, we know we have to do digital better. And so, we will do digital better. How that looks will be different than what current players do in digital.
Why? Because we're compelled to innovate, we're compelled to bring this experience forward in a way that in our view is more compelling for the consumer. And so, I can't and I won't give you the details of our digital strategy, but what I will tell you is that our digital strategy will be significantly more robust, significantly more compelling than what we have done today.
So you can't tell me the details. Can you tell me when we might expect this evolution to happen? From a practical standpoint and if you're waiting too long to rollout, then people just may be into it.
That is very true. What I can tell you is when you rollout a new hardware, it's a perfect time to roll out this type of step-change.