Swiss authorities release Roman Polanski.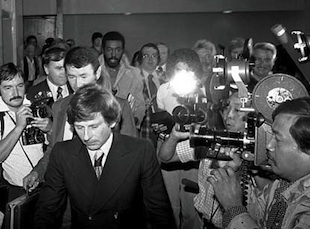 Posted by Matt Singer on
The Los Angeles Times reports that Roman Polanski will not be extradited to the United States after the Swiss Federal Department of Justice and Police found "a flaw" in the U.S.'s extradition request. Polanski has already been released from the house arrest order he's been under since December 4, 2009.
Polanski was arrested last September ("at the request of authorities in Los Angeles," according to the LA Times' story) when he came to accept a lifetime achievement award from the Zurich Film Festival. But after considering the United States' request for half a year, Polanski is now a free man (free to a certain degree; he still remains a fugitive in the U.S. as a result of having fled the country while awaiting sentencing in a 1977 case in which he pled guilty to having unlawful sexual intercourse with a minor).
So after agreeing to arrest him in the first place, why did they let him go? According to the LA Times, the Swiss did not go ahead with the extradition "because the U.S. had failed to turn over certain documents requested by the Swiss with regard to the case. Specifically, the Swiss wanted to determine whether the 42 days Polanski already served in a Los Angeles jail would have been considered sufficient time served for having sex with a minor."
In other words, the U.S. refused to acknowledge whether or not they were having Polanski hauled back to Los Angeles for a public scolding or to send him to jail. Which means Polanski's back at square one, though I suspect he won't be making too many trips to his Swiss chalet for the foreseeable future.
By the way, the image that accompanies this article is from the 2008 documentary "Roman Polanski: Wanted and Desired," a superb primer on the director's notorious rape case, the questionable actions of the presiding judge in the case, and Polanski's subsequent flight from justice.
If you haven't seen it yet, it's available right now on Netflix Watch Instantly. With apologies to all the fugitives avoiding extradition overseas, you'll have to be in the United States to watch it.