The stranger side of movie tie-in theme park rides.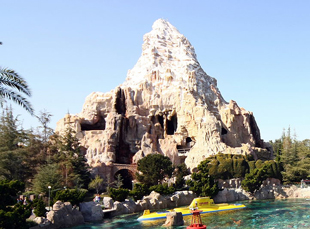 Posted by Vadim Rizov on
The new "King Kong" ride at Universal Studios opened last week, and the LA Times took some heat for including a four-page wrap-around section (clearly labeled "Advertisement" in bright red ink) featuring faux-news stories about Kong stomping through the Studios and leaving mysterious damage.
Debates over journalistic ethics aside, rides remain expensive to construct, and because of that frequently survive past their natural lifespans. The one that's most outlived the movie it was derived from is Disneyland's Matterhorn, inspired by the 1959 Disney chestnut "Third Man on the Mountain," a mountain-climbing movie starring people Michael Rennie (Klaatu from "The Day The Earth Stood Still"). That was back when Uncle Walt's live-action films aimed to compete with standard studio product rather than shamelessly targeting kids alone.
The weirdest legacy is in the same park, belonging to Splash Mountain, based on the controversial, famously racist movie (1946's "Song of the South") that Disney, to this day, will not release on DVD in the US. Despite that, it seems perfectly fine to watch Bre'er Rabbit and pals do their thing in animatronic form.
Given the fact that theme parks are often tied to major studios, it's the big blockbusters that get rides. A "Blissfully Yours" jungle ride isn't coming any time soon, nor even a simulated plane-crash for "The English Patient." There are, however, some relatively esoteric theme park tie-ins out there. The UK's "Saw — The Ride" is the world's first roller-coaster based on a horror movie; if you're in the second car sent out, it'll stop so a Billy doll can give you a speech, and later you'll be sprayed with fake blood. (You can buy a DVD of your ride after if you want.)
There's a "U-571" simulator at Movieland Studios in Italy, which is kind of inspired; "The Hunt For Red October" would be the more obvious choice, but either way, it has to be at least as much fun as a flight simulator.
And, if completed as originally conceived (budget cuts are kicking in), the forthcoming Universal Studios Dubai promises to be an surreal junkyard repository for movies no American cares about. There will be a "Waterworld" attraction, as well as "Woody Woodpecker's Nuthouse Coaster." We can only hope that at some point Universal will exploit its whole catalog and offer a "Car Wash" car wash, with employees dancing in synchronized lines.
The attractions are frequently more intense than the movies from which they're derived: a "Revenge of the Mummy" ride launches people from 0 to 45 mph in two seconds, which is more interesting than anything that happened in the sleepy last installment. Masochists who crave realistic tornado simulation keep Universal Studios Florida's "Twister: Ride It Out" in business. Not only will the cow fly past you and the floor almost drop out at the end; before the tornado, you have to get creeped out with clips from "The Shining" first.
By far the most intense-sounding attraction of them all, though, is "Jurassic Park: The Ride", which makes the mild scares of that enjoyable trilogy pale in comparison. A contemporary TV Guide review of the original film smartly noted that "These being the post-modern 90s, this is a theme-park ride about a theme park."
The ride takes that logic to its limit, bringing "Jurassic Park" into its purest state: it includes a jeep nearly crushing riders, velociraptors lunge at you, and you plunge down an 85-foot almost vertical drop just as a T-Rex rears his ugly head. No fool he, Steven Spielberg always gets off before that. Which, as this video demonstrates, would certainly ruin the timing of the surprise drop:
[Photos: The Matterhorn via Wikimedia Commons, photo taken by Carterhawk Feb. 13 2010; Saw — The Ride, Merlin Entertainments Group, 2010; Twister: Ride It Out," Universal Studios, 2010]