"Steamboat Bill Jr." and "The Girl With the Dragon Tattoo" on DVD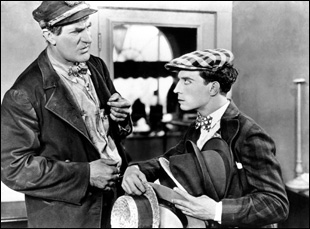 Posted by Michael Atkinson on
Chaplin may have enjoyed being regarded as the premier film artiste and the silent era's great artist for much of the 20th century, but everyone knows by now that he was a winkingly clever, crass, desperate populist compared to Buster Keaton. Though only moderately successful in his heyday, and ruined with the coming of sound, Keaton has emerged unchallenged as the greatest American filmmaker that the silent era ever produced.
These are old films, but they're Vermeers compared to comedies made half a century or more since, even "Steamboat Bill Jr." (1928), roundly dubbed an okay Keaton, not a peak work, but now restored and released in a lavish set from Kino that begs for reconsideration.
Today, this quaint, precise, epic entertainment, crafted in the strange transitional phase between the silent era and the struggling years of the first talkies, seems like a necessity, a gust of relaxed maturity and reason in a pandering Hollywood sphere that would grow ever more frantic and obvious.
The film may not be as relentlessly inventive as "The General" or "Sherlock Jr." or even "College" — rather, it takes its sweet-tea time introducing stock characters and exploring the environment (the banks of the old Mississippi). It's if by 1928, Keaton was assuming that audiences could outgrow instant gratification, or that they were so well-schooled in the ways of silent comedy that a more grown-up, less manipulative mode was possible.
You feel as though you're in a master's hands — the temperance and gracefulness of his visual storytelling isn't merely classical, it's novelistic, favoring relaxed company spent with the characters over the dominoes of plot. The story is naturally a heap of inoffensive clichés (Keaton is a geeky, eager college kid gone to visit the father he never met, who captains an ailing riverboat, and to fall in love with the daughter of the business's evil archrival), and their familiarity actually supports Keaton's tone — don't worry about drama, the film hums. Be happy.
But be careful, too, and look how Keaton (assisted in some fashion by credited director Charles Reisner) frames his movie and respects the viewer. For one thing, he understood off-screen space far better than Chaplin or Lloyd or any filmmaker of the era.
Then there's the famous climactic hurricane sequence, a sequence of set-pieces (including Keaton's definitive standing-under-a-falling-building-just-where-the-window-is gag) so furiously and lavishly conceived (entire buildings fly out of the frame and fall out of the sky) that humor is a secondary concern — its spectacle is wild yet carefully orchestrated mayhem, a three-ring circus of Swiss-timed catastrophe.
"Steamboat Bill Jr." is, though, mostly a triumph of personableness, of character. Keaton is his usual blank-slate self, inventing the deadpan, but also innovating realistic comic style — his reluctance to express his reactions is far more grounded in reality than Chaplin's smirking, or most other modes of movie acting prior to Brando. But he gets 3D support from Ernest Torrence as the looming, river-master father, twice Keaton's size and a rich source of hilariously dry rebound shots and moments of unpredictable humanity.
The two-disc set includes, of all things, an alternative version constructed at the time of different takes, a supposedly common practice I hadn't heard of before, and which no doubt has some profit-margin reason behind it. Both work, and both are funny.