New Oscars rules spark a debate on the line between special effects and animation.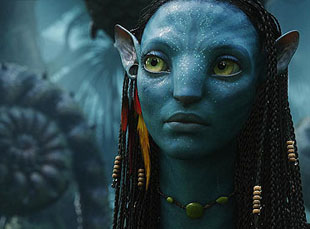 Posted by Vadim Rizov on
While there's still fuss being made over the Oscars considering a date change, some of the rule changes announced last week have received less attention. Among them, the Visual Effects category will now have five nominations instead of three, which makes sense — there's just too much groundbreak effects work getting done every year for only three picks.
More controversial are the new animation rules, which effectively disqualify motion capture-based features from being nominated for Best Animated Film.
Last awards season, there was a lot of debate about whether or not "Avatar" was animated in any meaningful sense (you can catch up on the basics here), and the new rule qualifies this:
An animated feature film is defined as a motion picture with a running time of greater than 40 minutes, in which movement and characters' performances are created using a frame-by-frame technique. Motion capture by itself is not an animation technique. In addition, a significant number of the major characters must be animated, and animation must figure in no less than 75 percent of the picture's running time.
With a movie like "Avatar," it's damn near impossible to tell where the actual animation vs. "mere" mocap line is drawn. So it seems safe to say that if process, not visuals, are the rules, it's best to disqualify the murky outliers altogether.
But — as Cartoon Brew's typically well-informed readers point out — under those rules, it'd be entirely possible that "Happy Feet" (which won in 2006) could be disqualified, since its dance sequences draw heavily on motion-capture (Savion Glover tap-danced to create Mumbles).
In the comments section, debate rages, but the bottom line's something like this: motion capture is heavily animated and altered frame-by-frame, but does that mean it's just a special effect or actual animation (an almost metaphysical question)?
Where does this leave rotoscoped films (assuming they ever got more mainstream than Richard Linklater)? And why, still, do animated films so rarely get nominated for straight-up Best Picture when people can't stop drooling over Pixar, and their box-office potential is at least as good as most of the other films that get nominated for Best Picture?
These questions are best left to specialists — except the last one, which remains weird and worth thinking about. The general public doesn't think of "Avatar" as animation and neither, it seems, does the Academy. Apparently, it's one of those "I know it when I see it" situations more than anything.
[Photos: "Avatar," 20th Century Fox, 2009; "Happy Feet," Warner Bros., 2006]