"Smash His Camera": The Sweet Life of a Paparazzi Superstar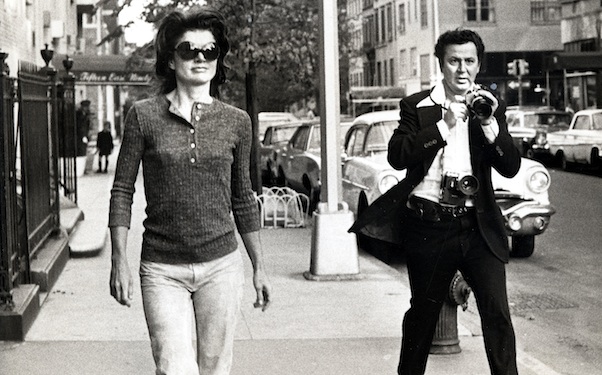 Posted by Matt Singer on
Can a paparazzo be an artist? Ron Galella, self-proclaimed "paparazzi superstar" certainly thinks so. And Galella has some evidence to back up his claim: after decades in the celebrity photojournalism racket, his prints now hang in museums around the world, and private collectors pay serious money for prints of his work. He's taken millions of photographs; one featured prominently in the film, "Windblown Jackie" from 1971, is one of the most beautiful pictures ever taken of Jackie Kennedy Onassis. Of course, Onassis also sued Galella for invading her privacy and had a restraining order placed on him to keep him away from her and her children. So a paparazzo, artist or not, might be a stalker too.
Galella makes no apologies for his "art" and it is to director Leon Gast's credit that his film about Galella, "Smash His Camera" neither valorizes nor demonizes its subject. Gast interviews a lot of people in this movie, including other paparazzi who think he's one of the best of their breed and "respectable" photojournalists who think he's a hack and a parasite. He also speaks to magazine editors who bought many of his photographs and always found him to be a pleasant and professional individual, and some art critics and museum curators who think he the turd in the punch bowl of American art and culture. Everyone, it seems, has an opinion on Ron Galella, and all of them are strong.
Gast puts the lawyers who argued both sides of the Onassis case in a room and watches, decades later, as they curse and argue over his actions. In a culture that has turned the notion of "fair and balanced" journalism into a meaningless catchphrase, Gast is genuinely committed to the notion of equal time. Though the film is about Galella and is filtered through his perspective, if you're of the inclination that all paparazzi are scumbags, you'll find plenty of evidence to support your theory.
Then again, you might not. Galella isn't just a guy with a camera looking for a quick buck. If people stopped buying pictures of celebrities, most paparazzi would go find other gigs. Not Galella. One of the most interesting, and in some ways unsettling, elements about "Smash His Camera" is his clear fascination with celebrity. At Galella's house there's a private version of the cement hand and footprints from Mann's Chinese Theater with just one plaque: his own.
He takes pictures of the rich and famous as much for himself as for the money it brings in. After another paparazzo snapped a shot of Galella taking a picture of Jackie Onassis that offered concrete evidence he'd violated the restraining order he wasn't upset that there could be legal repercussions. He was just excited that newspapers were printing a photo of him with Jackie Onassis.
Gast captures Galella working the red carpets for media events and sneaking into banquet halls in the hopes of passing hand-written notes or copies of his books to the celebrities. This isn't the behavior of a jaded photographer; it's the work of an obsessed fan. Gast argues that part of the reason Galella was so good at his job was the fact that he never considered the moral ramifications of his activities, and he never considered the moral ramifications of his activities because he was so consumed with the need to get close to these stars and to capture them with his camera.
"Smash His Camera" is a perfect coffee shop movie: you really haven't had the full viewing experience until you've spent an hour sussing it out afterwards with your friends over a cup of coffee. In this case, It's not just that its subject itself is ambiguous; the film itself treats him so even-handedly as to encourage audience debate. Is Galella a journalist or a creep? Is what he does valuable or disgusting?
I watched the movie with my wife; after it was over, I asked her what she thought of Galella. "I was a big Princess Diana fan. And you know what the paparazzi did to her," she replied. A fair point. But when the film premiered at Sundance I interviewed Galella at a gallery showing his photographs and watched several appreciative fans come to buy pictures. They'd seen the film the night before and been impressed by his work.
In other words, don't expect "Smash His Camera" to offer a sentimental fluff piece about an undeniably important figure in the world of celebrity culture (although Galella himself is plenty sentimental about his exploits). Don't expect a witchhunt, either. Gast is starting a conversation here, not settling an argument.