Semi Secret's "Gravity Hook HD" Makes You Upwardly Mobile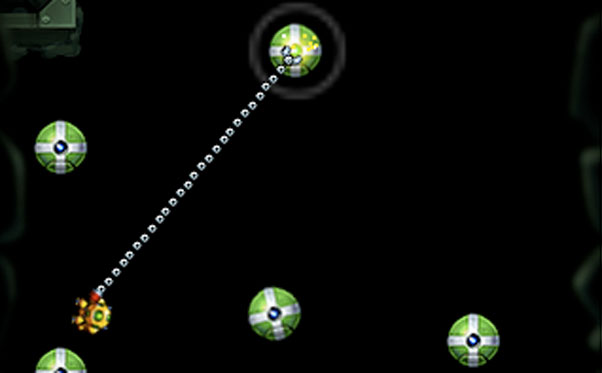 Posted by Evan Narcisse on
You know, the great thing about the speed and breadth of the iPhone development ecosystem is being able to watch creators grow and refine their ideas. The gentlemen at Semi-Secret Games made one of my favorite iDevice titles in "Canabalt", where players ran and jumped through dynamically generated levels of a post-apocalyptic cityscape.
"Gravity Hook HD" is their latest release, which actually revisits an older game that they iterated on with the permission of original creator Arne Niklas Jansson. This new HD version shows off a much-improved look and feel, along with significant gameplay tweaks. You control a robot grappling his way ever upward through an ever-changing vertical environment. The grapple points are always in different locations and some of them are explosive.
You can feel the evolution of Semi Secret's reflex-intensive design ideas in GHHD. Whereas "Canabalt" was purely a quick-response game, "Gravity Hook" still requires you to read the screen and then make a decision about where to clamp onto next. But you'll also need to judge the speed and height of your jumps. All of that has to happens in seconds. It's stressful, addictive fun like "Canabalt", but with a layer or two more mechanics built into the gameplay.
And the best part of lots of indie developers' philosophies is the open-source mentality that accompanies it. Semi-Secret's provided a free, embeddable web version of Gravity Hook HD. (No, really… here it is.) It's the best kind of marketing because, when you move away from your computer, you'll still want to try and master it.
Thankfully, it's only $2.99. Find "Gravity Hook HD" on iTunes right here.