A Beck Bonus Track From "Scott Pilgrim vs. the World"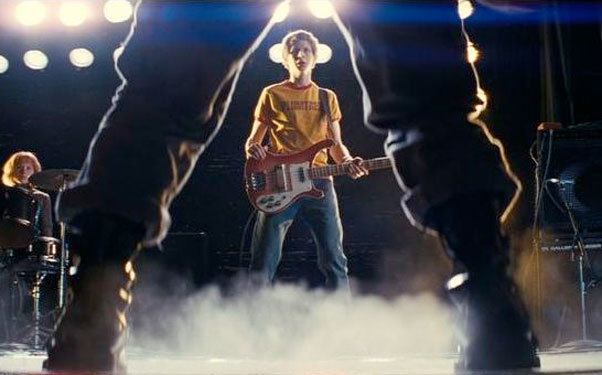 Posted by Brandon Kim on
I'm not yet sold on the film — maybe it's the leet tagline that grates at me ("An epic of epic epicness") — but with tracks from Beck, Frank Black, T.Rex and The Rolling Stones, at least the soundtrack for "Scott Pilgrim vs. the World" is looking really good. The Beachwood Sparks cover of Sade's "By Your Side" is a good time.
The soundtrack is officially out August 10th from ABKCO Records, but a new deluxe pre-order was announced on iTunes that includes three Beck bonus tracks, including this one below, called "Summertime," that has Beck playing a his guitar through an air conditioner — after drinking all the freon out of it. I think I hear a lemon wedge in there too.
Here's an embed I found from Stereogum:
You Pro Tools types might want to check out this remix contest on Indaba. They give you the source files, and you remix Scott Pilgrim's "Fight!" theme, as originally arranged composer by Nigel Godrich. Entries are judged by director Edgar Wright and Dan the Automator. Winner takes huge amounts of gear, including a one-of-a-kind custom Scott Pilgrim Fender Strat.
Scott Pilgrim vs. the World track list:
1. We Are Sex Bob-Omb – Sex Bob-Omb
2. Scott Pilgrim – Plumtree
3. I Heard Ramona Sing – Frank Black
4. By Your Side – Beachwood Sparks
5. O Katrina! – Black Lips
6. I'm So Sad, So Very, Very Sad – Crash and the Boys
7. We Hate You Please Die – Crash and the Boys
8. Garbage Truck – Sex Bob-Omb
9. Teenage Dream – T. Rex
10. Sleazy Bed Track – The Bluetones
11. It's Getting Boring By The Sea – Blood Red Shoes
12. Black Sheep – Metric
13. Threshold – Sex Bob-Omb
14. Anthems For A Seventeen Year-Old Girl – Broken Social Scene
15. Under My Thumb – The Rolling Stones
16. Ramona (Acoustic) – Beck
17. Ramona – Beck
18. Summertime – Sex Bob-Omb
19. Threshold 8 bit – Brian LeBarton

BONUS TRACKS (Exclusive to iTunes Deluxe Edition)
20. Garbage Truck – Beck
21. Threshold – Beck
22. Summertime – Beck [Hear it at iTunes]*
23. Black Sheep – The Clash at Demonhead (Bonus Video Pre-Order Only)
*Warning, if you are using Firefox, careful of that iTunes link. The latest Mozilla update this week seems to have bugged it out.