The Doc Days of Summer: "Racing Dreams"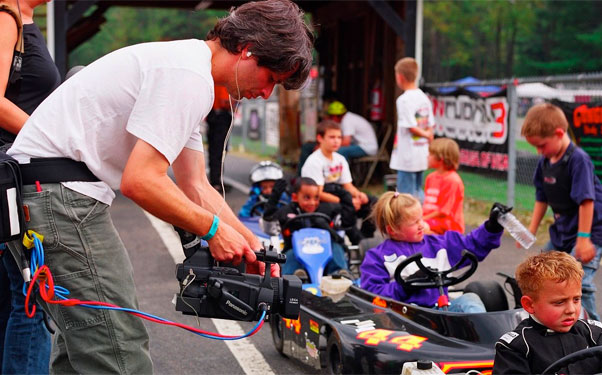 Posted by Stephen Saito on
It's been just over a year since "Racing Dreams" played to standing ovations at the Tribeca Film Festival. The response that wasn't entirely unexpected, given the pedigree of its Oscar-nominated director Marshall Curry ("Street Fight," the acclaimed doc about Newark mayor Cory Booker), but it was a little unlikely because of the movie's subject matter.
New Yorkers aren't known for their love of NASCAR, but still the festival (rightly) bestowed its best documentary prize on Curry's year-in-the-life of three go-kart racers — the 11-year-old Annabeth Barnes, 12-year-old Josh Hobson and 13-year-old Brandon Warren — entering a make-or-break period in their professional and personal lives.
"I feel like that age of 11, 12, 13 is so crucial to creating who we are," said Curry, who shot over 500 hours of footage of the trio who find that they need to be as agile in handling the pressures of school and family life as they are behind the clutch of 100 mile-per-hour go-karts.
Curry "probably couldn't have named two NASCAR drivers if you asked me to" when shooting started, but found the subject while visiting his Southern in-laws and soon discovered the breeding ground for the nation's second biggest spectator sport after football, the World Karting Association's National Series, which has groomed such superstars as Jeff Gordon (who appears briefly in the film when a precocious Hobson seeks out his advice).
"Racing" may be the primary preoccupation of the young drivers, as it is with the film's title, but there's far more to the film than its title would have you believe. Curry deployed the canny maneuver of keeping a minimal crew while filming the daily lives of Annabeth, Josh and Brandon, the latter of whom has a particularly wrenching relationship with a largely absentee father, and filming the racing scenes with multiple cameras and dedicated crews for each of the three kids.
The result is an unobtrusive look at adolescence where the action at home is captured as scrupulously as it is on the track, so much so that one of the film's most inspired narrative devices — a spotlight on the drivers as they race to smooth out any confusion as to who's in a particular go-kart — was only stumbled upon after other options weren't considered vérité enough. ("If you have a big graphic that's dropped into the middle of a scene, you feel like you're watching TV instead of watching a race," said Curry.)
"Annabeth's mom would say, 'who's going to narrate this thing and how's it going to work?' and I'd say, it's not going to be like that," Curry described how he pitched it to the kids' parents. "She just couldn't really get her brain around it and when she finally saw it, she said, 'That's not like a documentary at all. That's just a movie.' That's sort of the highest compliment you could say to a documentary filmmaker."
In fact, "Racing Dreams" is already bound to adapted into a feature beyond its nonfiction roots, having been optioned by "Star Trek" writer/producers Roberto Orci and Alex Kurtzman to become a DreamWorks production, and the documentary has prepared its young stars well for their closeup.
"When they came to New York [for Tribeca], none of the families had ever been to New York," Curry said, "and in part because Dwayne 'The Rock' Johnson is one of our executive producers, it drew this great paparazzi crowd and there's Annabeth Barnes standing in front of a racecar as a hundred photographers are snapping her picture… 'Annabeth, look over here, Annabeth, Annabeth!' You would've thought she just did this every day of her life the way she was kind of standing there and smiling."
Without spoiling the film's epilogue, Curry reports two of the drivers have gone on to full-sized racecars and all three kids are doing well. As for Curry, he's resumed work on a doc about the controversial environmental activist Daniel McGowan, who was convicted of arson to timber facilities in Oregon. (Curry, who was working both on that and "Racing Dreams" concurrently, joked, "[The MacGowan doc] is pretty interesting, but while I was shooting, it was always a challenge to shift gears between kids who race go-karts and radical environmentalists.")
"Racing Dreams" is now open in New York and will open in Los Angeles on July 23rd.