Put Julia Roberts On Hold: Seven Big-Name Movies That Have Yet to Reach Theaters or DVD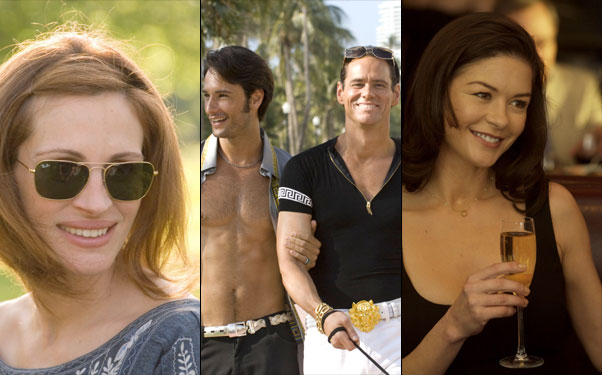 Posted by Stephen Saito on
Plenty of films don't ever see a theatrical release, but it's rare in this day and age for something not even get released on home video in the U.S., especially if it stars Julia Roberts or Jim Carrey. The latter, of course, has seen it happen with "I Love You Philip Morris," the dark comedy from "Bad Santa" writer/directors John Requa and Glenn Ficarra that premiered at Sundance in 2009. It can currently be enjoyed on transatlantic flights, but may never screen again Stateside thanks to legal issues.
With issues both economic and otherwise, there's a growing collection of films gathering dust, the latest possibly being the leftovers at Overture, where chief executives Chris McGurk and Danny Rosett resigned amidst speculation the company would be sold. It's made the fates of Matt Reeves' "Let Me In," the Edward Norton-Milla Jovovich prison drama "Stone" and Philip Seymour Hoffman's directorial debut "Jack Goes Boating" uncertain, to say the least.
There's a good chance all will be released or find new homes, but whereas high-profile films were once immune from getting the cold shoulder, their relatively big price tags and limited appeal to niche audiences may mean they not even make it to Netflix. Here are a few that won't be coming to a theater near you anytime soon.
"All the Boys Love Mandy Lane" and "Fireflies in the Garden"
Last year's Bret Easton Ellis adaptation "The Informers" was a disaster on many levels — its author hated it, as did most critics, and it made $300,000 on what was a fairly wide release for an indie film — close to 500 screens. But its major crime was being a big enough debacle to shut down its distributor Senator, one of those well-funded international production companies who wanted to try their hand at distribution and unfortunately backed the wrong horse for their first foray into the marketplace. Some of the films that would've followed, like "Brooklyn's Finest" and the Carey Mulligan tearjerker "The Greatest," ultimately found homes at other distributors and Music Box has come to the rescue of the two-part French crime epic "Mesrine" for an August release.
But don't hold your breath for either "All the Boys Love Mandy Lane" or the Julia Roberts drama "Fireflies in the Garden," even on DVD. The latter received tepid reviews at its 2008 premiere at the Berlin Film Festival, after which it traveled to more countries than Roberts logs in the upcoming "Eat Pray Love" (with the notable exception of the U.S.), but it happens to boast a cast of notable names including Ryan Reynolds, Willem Dafoe, Emily Watson and Hayden Panettiere. It was liked enough by Roberts that she's producing "Fireflies" director Dennis Lee's next film "Jesus Henry Christ." (Cinephiles would probably be curious just for the fact it was the last film of late, great editor Dede Allen.)
As for "All the Boys Love Mandy Lane," feel free to fire up your Amazon UK account, where Brit distributor Optimum Releasing has already put out a DVD, but American audiences shouldn't expect "The Wackness" director Jonathan Levine's horror debut before his 2011 Seth Rogen dramedy "I'm With Cancer," if ever, which is a considerable disappointment given its buzz on the festival circuit from 2007.
"The Poughkeepsie Tapes"
You think "The Hobbit" and James Bond have it bad? John Erick Dowdle and his brother Drew have made two films — the "[REC]" remake "Quarantine" and the upcoming M. Night Shyamalan-produced "Devil" — while the one that likely got them the gigs, "The Poughkeepsie Tapes," remains locked away in MGM's vault. Although it's unlikely the film would've achieved the success of "Paranormal Activity," it was cut from similar cloth: a documentary-style chiller with unknown actors that revolved around the discovery of a collection of gruesome videotapes showing the many murders of a serial killer.
The film had its world premiere at Tribeca in 2007, eliciting mixed response, but enough good word to draw the interest of MGM, who at one point was excited enough about the film's prospects to suggest to the Dowdles that they might have a franchise on their hands. (On the other hand, HitFix's Drew McWeeny has long lamented when he introduced the film at the 2007 "Butt-Numb-a-Thon" in Austin as a real documentary, which led to a disastrous screening where the filmmakers left before they were scheduled to do a Q & A.)
Even though the "Poughkeepsie Tapes" MySpace page remains up (further evidence of its fossilizing), MGM hasn't even hinted at dumping the film onto DVD, despite the fact that between all of the release date shuffling dating back to 2007, the film leaked online. Granted, MGM has other films with better commercial prospects on their shelves — like a remake of "Red Dawn" and the Joss Whedon-Drew Goddard horror flick "The Cabin in the Woods" — to deal with first, but there's a chance if the studio's financial situation isn't resolved, someone could be inspired to make a "Poughkeepsie"-style documentary about the corpses in MGM's vault.