"Predators," an Enigma Wrapped in a Cloaking Device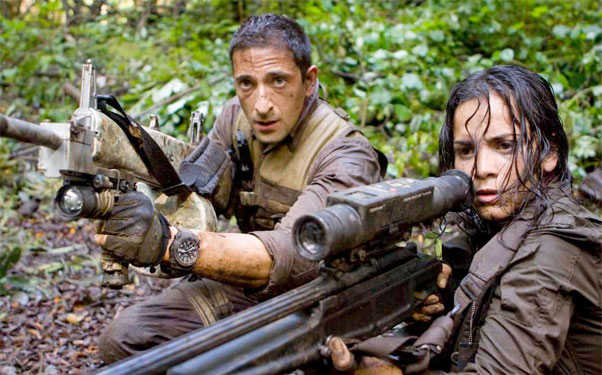 Posted by Matt Singer on
An American mercenary named Royce (Adrien Brody) awakens, as if from a dream, into a nightmare. After a brief and painful journey via parachute, he arrives in an endless jungle, where he soon meets seven other individuals, all but one are deadly killers like himself. Where they are and who put them there are big questions for these characters, but they're not really big questions for the audience, because this movie is called "Predators."
They're probably well aware it's a sequel to Arnold Schwarzenegger's 1987 shoot 'em up that featured a deadly dreadlocked alien who liked to hunt humans for sport, so it's a pretty safe bet that this one does too. Therefore, the big question for viewers — at least for viewers who know the first movie — will be why producer Robert Rodriguez and director Nimród Antal waste so much time on a mystery that they've already figured out.
Once the film finally starts moving, it delivers all the requisite gory action, hyperbolic gun violence and creepy-cool alien weaponry you could ever want. But "Predators" takes an awfully long time to get there, and while it does, its cast talks to each other as if they (and us) are all total morons. The characters will stumble upon a clue, one of them will analyze it aloud, and then another will spell out exactly what they've gleaned, down to the last detail.
After fending off an alien assault that ends after a loud whistle is sounded, one character goes, "So, what? They just left?" Another replies, "No, the whistle. They were called off." Like the bloodiest episode of "Blue's Clues" in history, the first 40 minutes of "Predators" repeats this process over and over. This movie doesn't have a subtitle, but if it did, the only logical choice would have been "Predators: Yes, Obviously."
At long last, the humans uncover the truth: they are not on Earth, but another planet entirely. "A game preserve," says Royce, "and we're the game." With that information finally out of the way, the band of vigilantes' tactics change and so do the movie's.
Antal, a talented young action director, is finally free to get back to doing what he did so well in his two previous films, "Vacancy" and "Armored" — conveying the cold, terrifying reality of what it might feel like to be caught in a death trap. Earlier, I mentioned the one human character who isn't some sort of soldier or serial killer. That's Edwin (Topher Grace), an American doctor. He's also a bit of a cliché and something of a MacGuffin, but his presence gives Antal that scared-out-of-his-gourd victim that all of his films require.
Much is made of the fact that Royce and the rest of the humans, including Alice Braga as an Israeli sniper, Oleg Taktarov as a Russian commando, and Mahershalalhashbaz Ali as a Sierra Leone death squad officer, are just as bad as the aliens trying to kill them.
"We're the predators of our own world," Braga's Isabelle tells Royce, alluding to the title's double meaning. But Antal and Rodriguez didn't have the conviction to fill their movie with the truly despicable butchers that sort of set-up demands. Instead, the targets the Predators selected for their hunt are all extremely ethical killers who, for the most part, are fairly likable and sympathetic. Other than Walton Goggins' repulsive and ruthless death row inmate Stains, these men and women are just run-of-the-mill movie badasses, with nothing especially vicious or extreme about them. At that point, any intended subtext becomes purely theoretical.
Antal doesn't have a particularly demonstrative visual style, but his action sequences always have a good sense of pacing and geography. When he plunges us into the frenzy of the Predators' hunt, the movie works. When he attempts anything beyond simple genre thrills, it doesn't.
I'm still mystified why Antal and Rodriguez treated the details of their story so delicately, especially because after all those pointless investigation scenes, it just so happens that one of the characters magically knows all about the Predators, and can share their history on Earth and weaknesses in battle. How could they possibly know this information? Maybe they'd seen "Predator" too, and were just as tired of the forced air of mystery.
"Predators" is now open in wide release.