Is the secret to great animated films as simple as skipping the pop culture references?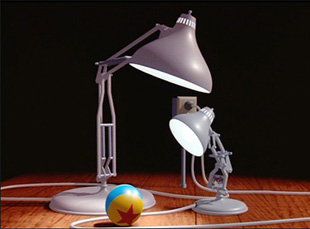 Posted by Vadim Rizov on
While Pixar itself has yet to succumb to smugness, complacency and diminishing returns, their champions could learn something from the studio's example. There's a peculiar push-pull attached to the studio and how people evaluate it.
For example: every summer, before their newest movie comes out, box-office prognosticators predict imminent failure (people won't want to watch a rat/mute robot/old man), then eat their words. This leads to resentment, as though Pixar's financial success makes every other cynical hack who doesn't make as much money look bad.
Ryan Gilbey in the Guardian quotes supervising animator Dylan Brown, three years ago, noticing that "every film has made a profit, and after a while some people seem to get angry about that. They seem annoyed, as if we had some secret formula for our films that we're refusing to share with everyone."
Well, Pixar's champions know what that formula is, and they repeat it ad nauseam in every article about the studio.
Try googling pixar and "no pop culture references" and you'll get back over six thousand results, all of which will inform you that Pixar aims for timelessness by avoiding the dated topical references its evil twin brother and main competitor DreamWorks loves.
"Pop culture references are easy," "Ratatouille" director Brad Bird says. "But they don't last. Take Disney's 1992 version of 'Aladdin,' which I like — when that came out, and I saw the genie doing an impression of Arsenio Hall, I thought: 'This is going to mean nothing in ten years' time.'"
The trouble with most animation (or not — they're the bane of most kiddie flicks) pop culture references is that they aim for the lowest of fruit: references to "Who Let The Dogs Out" and "Apocalypse Now," the ubiquitously famous and the defiantly ephemeral fodder of future mocking VH1 programming.
On many TV shows, by contrast, obscurity of reference point is valued (as Noel Murray examined and unpacked a few months ago in a piece about the "Simpsons" episode "22 Short Films About Springfield"). At a certain point, digging up things only people with very specific ages and cultural backgrounds can remember becomes a personal enterprise.
Not in mainstream animation though, which is where the Pixar thing gets tricky. Though the team isn't entirely averse to the odd reference — most notably in "Monsters Inc." — Pixar movies are generally "timeless" in the same way that, say, R.E.M.'s early-career insistence on avoiding big '80s drums and keyboards was "timeless." In both cases, we're dealing with a creative unit that's up to speed on using technology while simultaneously trying to hide anything that will instantly date the work.
Pixar didn't win me over until recent years, with "Wall-E" and "Up." (I'm sure you can hear John Lasseter's loud sigh of relief right now). Which is why it's annoying as an at-least-temporary convert to read repetitively fawning Pixar profiles that offer up nothing more than the usual talking points. Pixar succeeds because of "excellence" (nothing's ever that simple), a lack of pop culture references (a negative virtue) and brand-name trustworthiness (which Adam Sandler also has). I'd love to see more critical thinking about their output — the lack does their films a disservice.
[Photos: "Luxo Jr.," Disney, 1986; "Aladdin," Disney, 1992; "Monsters, Inc.," Disney, 2001]