"Piranha 3D" Promises Gross Outs and Make Outs in Three Dimensions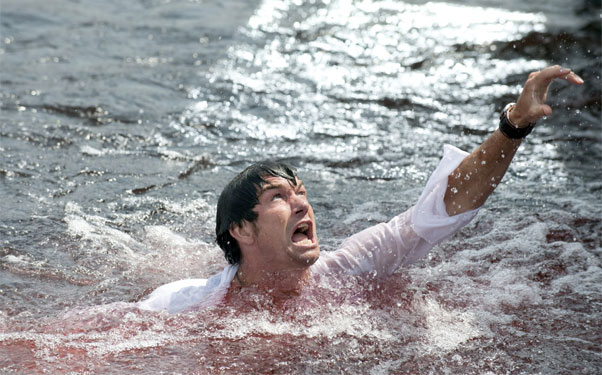 Posted by Stephen Saito on
The much-ballyhooed "Piranha 3D" panel judged too hot for Comic-Con also proved to be a bit of a hot potato for director Alexandre Aja, who confessed that he was in Los Angeles only two hours earlier finishing the mix on the ten minutes' worth of scenes he would present. (Whether that actually caused the near-hour delay of the late night panel was up for debate.) Jerry O'Connell got a nice photo op outside the Horton Plaza multiplex as he handed out 3D glasses to those in line, while co-stars Adam Scott, Elizabeth Shue, Paul Scheer and Eli Roth, among others, filed into the theater.
Now, l recall that no one really blinked when Lionsgate freely showed footage of the "Saw" sequels in the family-friendly Hall H just three years ago. Still, I'm not shocked Aja wasn't let on the premises of the San Diego Convention Center this year. After the clip presentation, he explained that he would describe what he had planned for "Piranha 3D" in full detail while he was in town promoting his last film "Mirrors," and that the 2D version of the film has already received an R rating.
Surely then, the MPAA hasn't really been able to fully process the mad genius that was on display Thursday night, where, as O'Connell would so eloquently put it, "People's bodies come apart when you don't expect them to come apart." You can, however, expect them to fly at you — heads, boobs and — it was strongly suggested — balls.
Unfortunately, one can't really describe the footage in too much detail, since Aja had no problem with showing kill scenes, which aren't exclusive to bit players. Needless to say, the body count is high and as producer Mark Canton observed, it may be one of the first films to use 3D to its fullest, since it opens the doors to all kinds of possibilities that only a director with a sick sense of humor like Aja could make use of.
One scene involved a swinging hook that first ripped apart a woman's bikini top before the realization sets in that it tore her apart as well, another has "Gossip Girl"'s Jessica Szohr vomiting into the water from a POV shot. (When prodded, Aja also confirmed that a nude underwater love scene between porn star Riley Steele and Kelly Brook "may be my favorite thing I ever shot"; for her part, Steele informed the audience, "It was really, really hard to hold our breath as we were making out.")
"The whole idea of the movie was to make a genre we don't have any more," Aja said of his homage to his guilty pleasures of the 1980s. He stressed that the film wasn't a remake of Joe Dante's film of the same name, but that he invited Dante to come shoot a cameo as a boat captain who gave a speech about safety. Dante accepted, though things ultimately didn't work out. (He was vague on why a similar cameo with James Cameron, director of "Piranha 2," of course, was scrapped.)
Roth, who only has a bit part in the film as a wet T-shirt contest judge, wound up speaking as much as Aja did, praising the film and admitted that he had retired from acting after "Inglourious Basterds" before Aja lured him back. "I wanted to be mutant raped," said Roth, "but Alex said he had already done that before." He also apparently kidded Quentin Tarantino that "You really fucked up 'Inglourious Basterds.' You should've had a wet T-shirt contest."
All of the actors genuinely looked like they were having fun both on screen and off, even though Shue noted it was usually 112 degrees in Lake Havasu, where they shot. Adam Scott said he took a role in the film because "I got to ride on a jetski with a shotgun and do a one-handed cock [of the shotgun] — it was like Indiana Jones blowing the shit out of some fish."
Still, there may be a larger human toll. When Roth arrived on set, he discovered Aja had used 7000 gallons of blood, which he put into perspective by acknowledging he used 150 for "Hostel" and Tarantino used 300 for "Kill Bill." "Piranha 3D" will be bleeding to a theater near you on August 20th.