Peter Jackson tries to figure out how to fix New Zealand film.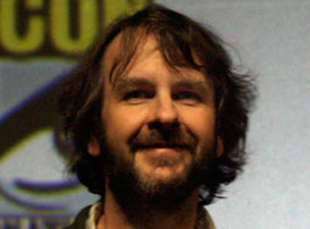 Posted by Vadim Rizov on
In between creating increasingly gigantic films, Peter Jackson got together with David Court, an Australian academic, and issued an 87-page report on the effectiveness, or lack thereof, of the New Zealand Film Commission. It's a compendium of every cliché ever uttered by a frustrated filmmaker, confirming that the development process is long, tedious and discouraging pretty much everywhere in the world.
Even if you're not Jackson-obsessed, the report's surprisingly readable and filled with anecdotes, despite some heavy charts of statistics appended to the end. The thrust is that New Zealand needs the NZFC (without it, a young Peter Jackson would never have gotten started), but it needs a different NZFC, one that (presumably) is no longer acting the same way it did when Jackson was getting off the ground.
That conclusion is based off interviews conducted anonymously, so that no one feels intimidated from speaking — and, attendantly, it's light on specific case studies and horror stories. Still, you know what you're getting into when "Table one" (on page 17) invites you to contemplate the differences between the current model (deemed "arts patronage") and what Court and Jackson would like to see (dubbed the "talent partnership" model).
Adjectives tell the tale. In the category of "relationship to film makers," "aloof" should become "involved"; accountability should go from "low" to "high," the management culture from "controlling" to "co-operative."
The gist is that the NZFC means well but is staffed by terrified bureaucrats who don't know how to read screenplays and do everything too slow. These insights will be familiar to anyone who's followed horror stories of the Hollywood development process ("The Commission tends to use drafts as a way of avoiding decisions," reports one anonymous soul. "If in doubt write another draft. It's a momentum killer.")
Everyone seems to agree that it's important to nurture young talent, though it's unclear what the best way to do this might be. There's an endorsement of conventional screenwriting wisdom that would warm Robert McKee's heart: "We need to get past the cultural cringe of imagining 'we don't want to tell American stories'. A good story tutor teaches principles that have driven storytelling since the ancient Greeks."
On the other hand, there's a lot of stuff like this: "it is our recommendation not to put too much focus on financial returns. Removing the need to make profit will lead to more creatively interesting projects – which ironically, may well lead to greater financial returns."
So, while they're obviously not bottom-line driven in the way of the Hollywood studios, film commissions have their own conflicts — the current UK set-up means a master like Terence Davies ("Distant Voices, Still Lives," "Of Time And The City") has to kowtow to younger admins and prove his artistic worth after 20-plus years of repeatedly doing so. And they have their own sense of obligation to investors: "Film-makers must also remember that they are the recipients of taxpayer funding," scolds the New Zealand Herald. "This should not be dispensed lightly."
Filmmaking everywhere is hard, and always for the same reasons.
[Photos: Peter Jackson via Wikimedia Commons, taken by Natasha Baucas, July 28 2009; "King Kong," Universal, 2005.; "Of Time and the City," Strand Releasing, 2008]