Our Favorite Comic-Con Tweets: Day Three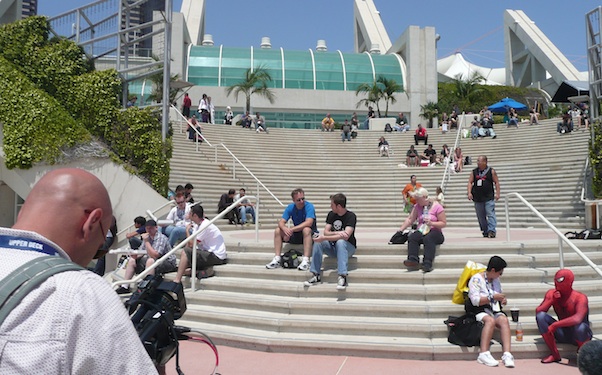 Posted by Matt Singer on
Throughout the weekend, IFC News is hunting through Twitter for the best tweets from Comic-Con. Here are our favorites from Day Three (a lot of them are about this); feel free to share yours below:
AskDebruge: The problem with Comic-Con: You see a fan with a cane, a false leg or a gaping head wound and you can't tell if it's a costume or not. #sdcc
therealcliffyb; Just saw someone run up to a Princess Peach cosplayer saying "OMG Fat Princess is my favorite game!" #facepalm #cosplayfail #sdcc
DragonMgmt: Just had Stan Lee encounter. Random person: "Stan, you're a god!" SL: "You're right!" #SDCC #RkPkPdcst
HavaB: We spent 5 consecutive hours in the same room for DC panels without food or water. We are HARDCORE. #SDCC
kristapley: MASSIVE wave of "boos" and "you suck" in response to M. Night's name on the "Devil" trailer in Hall H.
McGeek84: Douche tried to steal a guys seat who was in the bathroom. Guy came back and sat in the douche's lap. He left. It was awesome. #sdcc
JesseQ: If you ever want to sit next to me at a panel, just ask. No real need to stab me in the eye with a pen. #SDCC
ArmandoValle: You gonna stab someone in the eye.. over a seat.. for a Paul WS Anderson movie panel?!! #SDCC
thebrownfedora: #hallH #SDCC saw person waiting in line hold up a sign "TAKE MY SEAT JUST DON'T STAB ME"
schadenfreudian: That Paul panel was so good I wanna stab someone in the eye. @sdcc
emeryemeryii: I had to stab him in the eye because he was looking inappropriately at Xena with knowing eyes. #sdcc
richjohnston: One San Diego staffer told me "Great. Now next year we won't be allowed to bring pens!"
PhilVillarreal: I'm really, really interested in the Comic Con updates. So fascinating. Please keep them coming. No, really, I'm being serious. OK I'm lying