Our Favorite Comic-Con Tweets: Day One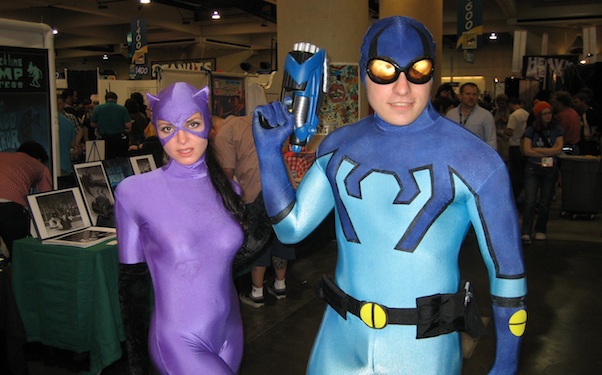 Posted by Matt Singer on
Throughout the week, IFC News is hunting through Twitter for the best tweets from Comic-Con. Here are our favorites from Day One; feel free to share yours below:
whitnutt: After standing in comic con line for about an hour, a guy next to me asks–Do you know what this line is for? #sdcc
BavarianErin: If you stand still long enough at #SDCC a line will form behind you.
biofeed: The line is behaving its self well. Sadly, I haven't had to use my swordstaff on anyone. Yet. #sdcc
russfischer: What the insanely long line to get into Hall H needs: vuvuzelas.
guiltyx: Fuck you, lawn crossers for skipping the HALL H line, you mangy stinkin bastards! Eat shit & die #SDCC @comic_con
mfrushmore: Someone just noted Hall H at Comic-Con is probably the only place on earth where the men's line for the bathroom is longer than the women's.
pattonoswalt: Second costume spotting! Fat Captain Pike! Oops — scratch that. Obese guy with cystic acne on Rascal scooter.
rdemint: My favorite part of #SDCC so far is seeing what superheroes would look like super fat.
GhostPanther ("The Other Guys" director Adam McKay): So far comic con is hard work. I'm mylar bagging Marvel Two in Ones for a dealer from jacksonville.
dan360: Comic con pick up line: Heisenberg was wrong. I'm certain about what you're doing tonight.
andrewmcass: Is your name Aeris? Because you're my final fantasy. #comicconpickuplines
PROMO_TWEET: ABSOLUTELY NONE WHATSOEVER: THE OFFICIAL DEODORANT OF SAN DIEGO COMIC-CON
_mason_: Omg…some ppl here smell like pure rotten egg ass. #SDCC