Our Favorite Comic-Con Tweets: Preview Night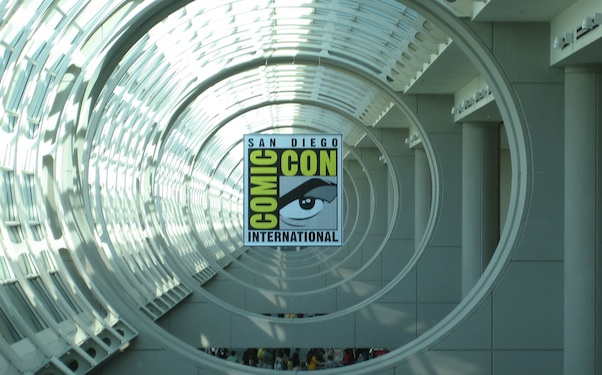 Posted by Matt Singer on
For the first time in five years, I'm not attending San Diego Comic-Con.
I'm of two minds about the whole thing. On the one hand, I'll miss hearing the buzz about upcoming movies, admiring (and being mildly freaked out by) the crazy fans in their over-the-top costumes, and feeling that energy as excitement spreads in the convention hall. On the other hand, that conventional hall energy often smells like nacho farts. Plus, so many conventioneers are tweeting at the show these days that the best seat in the house at Comic-Con is basically the best seat in your house.
Yeah, you don't get to see the footage in Hall H and you don't get to buy the ultra-rare exclusive Mad Max figure with uncensored talking feature, but just about everything else available at your fingertips and you don't need to walk across miles of convention floor or wait in hours of lines to get it. So while our own Stephen Saito braves the Con alone this year on behalf of IFC.com, we'll be compiling our favorite #SDCC tweets throughout the weekend here. (If you see one you think is worth sharing, I encourage you to leave it in the comments below.)
hawaii: United announcer at the airport: "For baggage claim three, note oversized items, surfboards, car seats, lightsabers…" Yep, it's #SDCC.
QTPIE913 : Comic Con must smell really bad cause every Survival tip says to wear deodorant. Why would I not? #SDCC
giantroboteric: Just wanted you to know that comic Con toilets already smell bad. I Added to it and so will you. #sdcc
JHoffman6 : One of the funnier things about #SDCC — it's the one place you can't get this week's comics.
simplydab: What most people fail to realize is the ones who DON'T cosplay @ #ComicCon are the ones who look weird! LOL #SDCC
xerick: So everyone is either getting ready for Comic Con or is at Comic Con already in line, I'll be there around 5 I have a life lol #SDCC
dzabriskie (Pro Cyclist Dave Zabriskie, who's currently racing the Tour de France): Someday…#SDCC…someday…
God_Damn_Batman: Alfred, fire up the Batwing! We're going to Comic-Con. And by "we" I mean "me." You have a Batcave to clean.
JensenClan88: Driving to Comic Con right now. So easy to spot the people also driving there. They're the ones without the vaginas. #sdcc
jerslater: I'm wearing an INCEPTION costume to Comic Con. It's just street clothes, but I break into your hotel room while you're sleeping.