Oliver Stone should have made that Margaret Thatcher movie after all.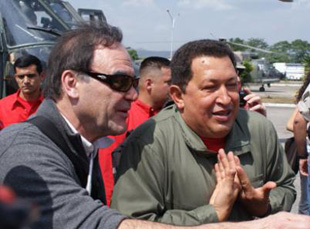 Posted by Vadim Rizov on
Five years ago, Oliver Stone joked in an interview that he was interested in making a movie about Margaret Thatcher starring Meryl Streep. It was quickly distorted into a rumor he had to deny: "Can you imagine me doing the life of Margaret Thatcher?," he scoffed.
Well, joke's on him: five years on, that project's really happening, except now as directed by Phyllida Lloyd, the woman who made "Mamma Mia!," so everyone loses. With Stone at the helm, we would've at least seen if he could empathize as well with the Iron Lady as he, surprisingly, has with Nixon.
Instead he went to Venezuela and made a documentary about Hugo Chavez, "South of the Border," that's the kind of blatant agit-prop it's difficult to imagine helping anyone trying to make a reasonable case for Venezuela's health and stability right now (a tough task regardless). It's being touted as "The movie the right-wing media does not want you to see," with adds listing pull-quotes in both "Praise" and "Condemnation" categories. (Unsurprisingly, Bill Maher loved it, while the National Review didn't.)
While it's likely to end up just preaching to the converted, this is a tried and true tactic to position yourself as the little guy fighting against a media world that's borderline controlled by the right — not a major exaggeration, insofar as rumors jump-started by Fox News are then forced to be soberly "reported" and commented on by the media.
Despite this, most reviews are not kind to the film, and those negative notices are hardly all from right-leaning outlets (the far from right-leaning Village Voice calls it "propaganda in the form of a home movie").
I've always believes that Stone's good when he's just as far in over his head as the audience is and unsure what he's trying to say. He should've made that Thatcher movie after all — that could have provided something to actually think about.
[Photos: "South of the Border," Cinema Libre Studio, 2009]