America is no country for '80s directors.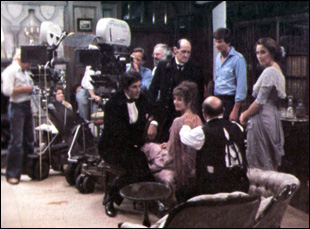 Posted by Stephen Saito on
A few weeks back I was at the New Beverly Cinema in Los Angeles, taking in John Badham's ill-fated 1979 take on "Dracula." Released only six weeks after George Hamilton's "Love at First Bite" parodied Transylvania in theaters, the film was also soon overshadowed by Werner Herzog and Klaus Kinski's certifiably brilliant "Nosferatu the Vampyre."
After the film, Badham joked he was happy the theater reversed the order of things and played his "Dracula" before "Love at First Bite." He regaled the crowd with stories of working with Laurence Olivier, who insisted on be called Larry, trying to pry chemistry out of leads Frank Langella and Kate Nelligan, who hated each other, and how he could create the effect of a full moon on screen with a flashlight and some cleverly placed smoke devices.
When the Q & A ended, he stood in the hall as a cadre of fans lined up to grill him some more, It was a Saturday night, so he had plenty of time to answer their questions without worrying whether he'd be late to his current gig, as a professor at nearby Chapman University.
It's easy to forget that Badham had one of the most solid directing runs of the late '70s and early '80s — "Dracula" was a rare stumbling block after helming "Saturday Night Fever" and proving himself particularly capable of directing both thrillers ("WarGames") and comedies ("Short Circuit" and "Stakeout"). His career devolved into a series of forgettable films in the '90s and ultimately a steady hand in television.
Similar fates have befallen '80s directors like Walter Hill, who looks to be reteaming with "Johnny Handsome" star Mickey Rourke on the crime thriller "St. Vincent" after finding some success in TV with the Western miniseries "Broken Trail," and John McTiernan, whose "Rollerball" debacle was nothing compared to his legal problems, though both obscured his position as one of the sharpest, most intuitive action directors of the era. All of them are still available to direct, but the studios have all but put them out to pasture.
So it comes as good news that two of the '80s most celebrated filmmakers appear ripe for recovery from those not so nice Naughts, with Barry Levinson tapped to direct the Sony drama "Brother Jack," his first studio film since the forgettable Robin Williams political satire "Man of the Year," and Rob Reiner earning very positive buzz for "Flipped," a nostalgic '50s coming of age comedy that doesn't scream "director-for-hire" like nearly everything in his post-"Ghosts of Mississippi" résumé.
Both deserve a comeback — in spite of rarely being mentioned in the pantheon of great directors, they were responsible for a run of films that earned that rare mix of critical and commercial acclaim — Reiner's "Princess Bride" and "A Few Good Men," Levinson's Baltimore films of "Diner" and "Avalon" and awards bait like "Bugsy." The most respect either director ever seemed to get was working his way into the rotation of TNT's New Classics, where "Misery" and "Rain Man" burrowed their way into the minds of younger generations.
Both lost their way as studio directors: Levinson likely emerged from the doghouse with HBO's "You Don't Know Jack" while Reiner essentially called in a favor for the $14 million "Flipped," in spite of pulling in $93 million for Warner Bros. with "The Bucket List."
Incidentally, one needs only to look at the local arthouse as a reminder that this isn't a trend that extends to other parts of the world — Alain Resnais just celebrated his 88th birthday with the release on "Wild Grass" and 80-year-old Jean-Luc Godard's "Film Socialisme" still lit a match at this year's Cannes.
Although Martin Scorsese and Clint Eastwood appear to have no quit in them (and studios who still believe in them), it's a shame that as even established directors like M. Night Shyamalan fumble their way through $150 million budgets, there isn't a place for guys who know how make a flashlight into a moon. Maybe it's why Quentin Tarantino has promised to retire at 60 (13 years away, if you're counting), but it's not how it should be.
[Photos: John Badham (in blue) on the set of "Dracula," Universal Pictures, 1979; Rob Reiner on the set of "The Bucket List," Warner Bros., 2007; Resnais on the set of "Wild Grass," Sony Pictures Classics, 2009]