The "it's just mindless entertainment" excuse.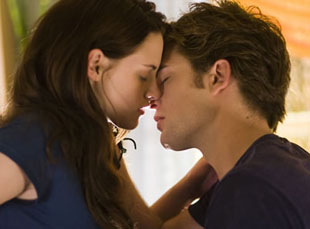 Posted by Vadim Rizov on
It's been eight years since The Onion published "New Roommate Has Elaborate Theory About How Kenny Rogers Is A Genius," and it's still a painfully accurate skewering about how it's become increasingly acceptable for people to overthink pop culture. It's basically the birthright of anyone who came of age in the '80s or later.
As long as pop culture's the dominant texture of a lot of people's daily life, the tendency to overread it will be with us. Kudos, then, to The Playlist's Jessica Kiang for going off on the "Twilight" movies and their unique gender relations: "How long before a self-help book hits the shelves that encourages us to divide our menfolk cleanly into vampires or werewolves?" It's depressingly plausible.
Absolving teenagers (who never know any better) of blame, her ire is for the older women who come to see things they should've grown past:
The desire to be desired without reason; to have one's life made remarkable by the men who fight over you; to define yourself entirely in terms of someone else; all this may sound thrillingly romantic to some, but it's also just fucking stupid, and if you're over 15 and still buying this crap, you ought to be ashamed of yourself.
But of course, there's always someone in the comments section to say "Women need their mindless entertainment too, and that's all this is and I think there's little to fret about in terms of social implications." This is true, but it's also an evasion. It dismisses the validity of a viscerally angry response, and it denies that something this freakishly profitable might tell us something about why people are watching it.
It's a symptomatic comment that comes up every time someone wants to read depth into material that doesn't overtly aim for it. It was hilarious that Jordan Hoffman offered up a reading of "Toy Story 3" as about the Holocaust (the three other readings of the film as existentialist, Marxist or panoply-of-religions should've been a tip-off) — and it was even funnier that critic Marshall Fine couldn't tell he was joking, nor could a bunch of other people.
But it resonated with other writers, who expanded on it. A joke became a valid way for people to think about the movie, and that's a good thing: any kind of weird read you can make on a film is worthwhile.
Of course, that's not precisely what Kiang is doing when she's beating up "Twilight," but it starts from the same place: a response to mass culture that puts more thought into potential readings than those making it.
When you do that, you can begin to think about ways that "Twilight" might be socially important besides merely theorizing that girls think Robert Pattinson is hot and want to swoon.
Every Hollywood movie stars the ridiculously genetically lucky and panders to some kind of stupid emotional reflex. Overthinking these kinds of things may be the only way to really engage with them; otherwise, you just end up screaming defensively about how it's just harmless stupid fun with no resonance whatsoever, which is an awfully disingenuous way to discuss one of the weirdest, most profitable phenomena of the last few years.
[Photos: "Twilight," Summit Entertainment, 2008; "Toy Story 3," Disney, 2010; "Twilight: Eclipse," Summit Entertainment, 2010]]