Los Angeles is getting to play itself again.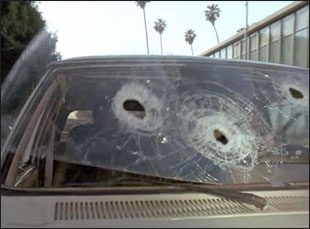 Posted by Vadim Rizov on
There's been an increase in movies, shows and commercials are being shot in LA — 16% more this quarter, according to the Los Angeles Times. It's part of an ongoing recovery after Hollywood staged a retreat from itself, in search of bigger and better tax incentives elsewhere.
For most moviegoers, there's not going to be a noticeable difference. Up through the '80s, a lot of movies that didn't require elaborate locations were shot in California. Movies shot in New York seem to automatically celebrate that. Movies shot in LA (not on a sound stage, but just around the city) tend to make it seem like any other city. Just check out "Marked for Death" — Steven Seagal's supposed to be in Illinois, but everyone seems unfazed by the abundance of palm trees in the background.
For those of us who don't live in LA, learning from movies what's in the city — aside from obvious landmarks like the Griffith Observatory — is hard. LA landmarks tend to be smaller and more eccentric in original purpose than, say, NYC's Empire State Building. The best LA movies exploit that shaggy-dog quality.
There have been a few recent movies that are specifically regional. They tend to be indies, as Variety's Peter Debruge notes. "Greenberg"'s down to earth and sticks to the less glamorous neighborhoods. "The Kids Are All Right" pits Julianne Moore and Annette Bening's Venice vs. Mark Ruffalo's Silverlake. "Cyrus" and "Mother and Child" similarly use neighborhoods specifically and almost symbolically.
But the city's most memorable iconography on-screen remains Thom Anderson's monumental 2003 documentary "Los Angeles Plays Itself," a three-hour visual tour that clarifies a lot — Anderson knows everything about LA film). Here's a very cool part about the Bradbury Building:
[Photos: "Marked for Death," Twentieth Century Fox, 1990]