"Let Me In," just like the awesome vampire movie it's adapted from, without the subtitles.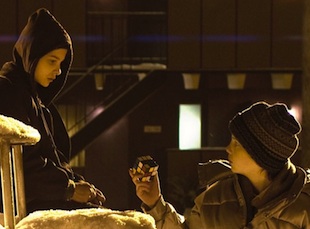 Posted by Matt Singer on
Vampires vampires vampires. It's all getting a bit tiresome at this point, isn't it? The endless wave of bloodsucking films and television shows makes me feel like Bud Fox as he watches Gordon Gecko devour every company in sight. Seriously, guys: how much is enough?
Obviously, one reason for all the vampire movies is that their fans seem to have an unquenchable thirst for them to rival their subjects' taste for blood. Or maybe Hollywood likes vampires because Hollywood is a vampire: sucking out the creativity of movies from different countries and time periods and using it to keep its undead corpse shambling along for a little while longer. Their latest victim is "Let the Right One In" the outstanding Swedish horror film from from 2008.
Here's the first trailer for the American version, entitled "Let Me In," from "Cloverfield" director Matt Reeves:
That's "The Road"'s Kodi Smit-McPhee as Owen (previously Oskar) and "Kick-Ass"'s Chloe Moretz as Abby (previously Eli). The trailer makes the remake look eerily like the original, from the children's clothing, to the muted color palette, to the production design of the courtyard where Owen and Abby meet and bond. Watching it, I was reminded of the Spanish language version of "Dracula" that was shot concurrently on the same sets with the famous Bela Lugosi version. They're like movie versions of Superman and Bizarro: unmistakably the same, and yet slightly and crucially different.
If you're going to remake the movie so that it looks and sounds almost exactly like the original, I'm not sure why you remake it at all (other than to get rid of those pesky subtitles). I guess we'll find out when "Let Me In" comes out on October 1.
[Photo: "Let Me In," Overture, 2010]