"Kisses," with Performances That are Anything But Childish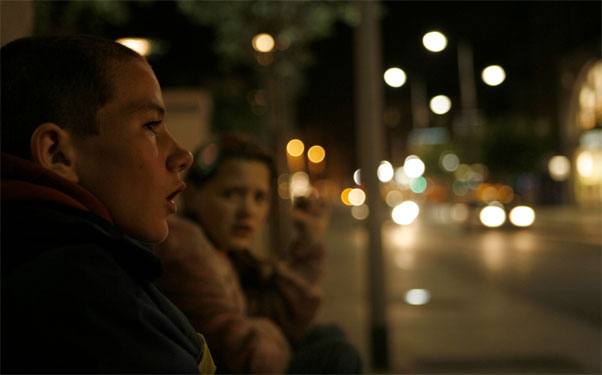 Posted by Matt Singer on
I don't know how or why — maybe it's something in the water or a some kind of atmospheric byproduct of global warming — but all of a sudden, Ireland is a hotbed of child acting talent. Earlier this summer, Colin Farrell and Alicja Bachleda were repeatedly upstaged by ten-year-old Alison Barry in Neil Jordan's "Ondine." Now, in the new Irish film "Kisses," two untrained child actors, Kelly O'Neill and Shane Curry, give the sort of naturalistic performances that professional actors spend years trying to perfect.
Curry plays Dylan, a shy kid who lives in a house in the suburbs with his mother and abusive father. O'Neill's outgoing Kylie lives next door with her own family and her own troubles. After one particular brutal fight with Dylan's dad, the two run away from home. They make their way to Dublin in search of Dylan's older brother Barry, who ran away himself two years earlier.
Writer/director Lance Daly shoots the bleak introductory scenes in cold black-and-white, then slowly adds a little more warmth and color with each successive scene, as Dylan and Kylie embrace their newfound freedom on the streets of Dublin.
Like the land of Oz in the similarly color-coded "Wizard of Oz," Dublin isn't all heartwarming misadventures and cutesy life lessons.There are real dangers in the city as well, just as dark as anything they'd encountered with their families. The ultimate lesson isn't quite "There's no place like home" — home is still a pretty horrible place; more like "There are worse places than home, so you'd best be prepared for them."
Along their journey, Dylan and Kylie encounter a series of adults, some who impart wisdom, others who threaten violence. But "Kisses" never focuses on anyone but these children for longer than a scene or two, and if they didn't make us believe the strength of their characters' friendship and the depths of their heartache, the entire film would collapse. O'Neill and Curry pull it off, with an onscreen authenticity that's rare amongst children their age.
These kids are endlessly watchable, which is fortunate for "Kisses," since the movie is basically 75 minutes of watching them. O'Neill, in particular, seems like a born actor: charismatic, charming, and utterly lacking in self-consciousness, though some amount of credit has to go to Daly as well for writing a script that understands her character and for coaxing such a marvelous performance out of her.
"Kisses" is the sort of understated film that looks incredibly easy to make but isn't. Producing an engaging movie with a scope this small requires the precision of a watchmaker: a single miscalculation can throw the entire mechanism off. That's how so many similar films about precocious kids learning about life wind up as melodrama, or camp, or sentimental pap. "Kisses" never does.
The film's title comes from a conversation Dylan has with a woman he meets in Dublin. After he sees her with a man, she explains their relationship. "When you kiss, you give or you take," she says. When you make movies, you do the same thing. "Kisses" may take some of its structure and visual style from other films, but the performances from those young actors are most certainly a gift.
"Kisses" opens in New York and Los Angeles on July 16th.