Revived and Derived: "Freaks and Geeks" Ep. 4, "Kim Kelly Is My Friend"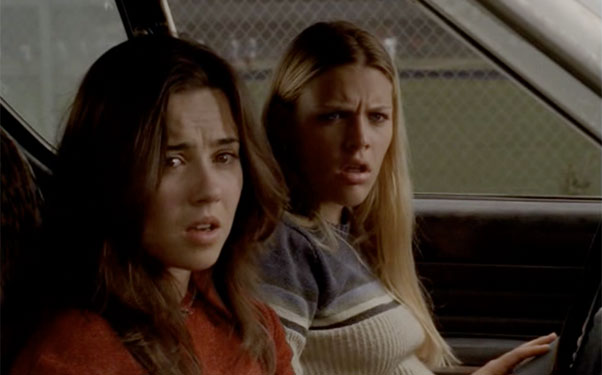 Posted by Alison Willmore on
"Freaks and Geeks" is now airing on IFC, and we thought we'd take this opportunity to revisit the show that launched a thousand bromance movies. Every Friday, Matt Singer and Alison Willmore will be offering their thoughts on that night's episode.
Episode 4: Kim Kelly Is My Friend
Directed by Lesli Linka Glatter
Written by Mike White
Originally aired September 5, 2000
"Kim Kelly's a psycho. She and Karen Scarfolli — they're violent. They run around the school being evil." –Sam
Alison: A confession: Kim Kelly is my favorite "Freaks and Geeks" character, and this episode — written by Mike White, who appears as Kim's "brain damaged" older brother Chip — is one of the series highlights for me. Throughout the first few episodes, Busy Philipps has been unrelentingly terrifying as Kim, territorial, intimidating and blessed with an uncanny ability to zoom in on people's weak spots — like her "joke" about Lindsay's being a narc in "Tricks and Treats," because what would mortify aspiring bad girl Lindsay more than being accursed of acting as some kind of spy for the authorities?
In "Kim Kelly Is My Friend," we get to see the more vulnerable side of Kim, which is — well, terrifying in its own right. But it puts her character in perspective. Kim acts nuts because her family is, or at least acts, nuts, escalating instantly into screaming matches over dinner in their half-renovated house, chasing Lindsay and Kim out to the latter's precious Gremlin in an attempt to confiscate it.
And Kim acts aggressive because she's used to having to fight tooth and nail to hold on to what she has, whether it's the car or her straying boyfriend Daniel, who, in her view, can't really be blamed for being "a normal guy, you know? He'll screw anything that moves." Kim's is a world under constant siege, and sometimes the rage that she often seems to be barely suppressing needs a release — hence her doing an incensed donut right over the basketball court while shrieking like a banshee when she sees Daniel flirting with her alleged friend Karen (Rashida Jones, in a memorable guest spot).
Dinner at the Kelly household — with the bucket of Chicken Deluxe fried chicken (versus Jean Weir's veal piccata), Kim's class-climbing harpy mother, her sleazy stepfather, the sheets of plastic and Chip permanently napping in the wall-less next room — is like a low-key David Lynch movie, and it was likely that, combined with the girls' shrieking escape when Kim's parents try to claim her precious automobile, that led to this episode's being deemed too dark and getting yanked from its original air date. Yes, if you were watching the first airing of this series back in 1999, you'd have no idea what broke the ice between Lindsay and Kim, and no sense of the elder Weirs first brush with Lindsay's new friends.
Speaking of, one of the things that makes this episode so enjoyable is the way it unites the worlds of the freaks, the geeks and the parents. Matt, what'd you think of the geek storyline, with Karen's accusations of geekdom temporarily causing a schism between Sam and Neal?
Matt: That storyline is clearly an offshoot of last episode's subplot about how the geeks need to grow up. In "Tricks and Treats," they got scolded for their lowbrow book report selections. Now Sam and Neal each insist the other is the bigger geek, and the evidence they use to prove their case is the fact that they're both still obsessed with childhood hobbies: Neal plays with his chemistry set while Sam can't bear to part with his collection of Tonka trucks. Their dust-up culminates in a heartbreaking image of innocence lost: Sam reluctantly dumping his trucks in the garbage so no one can make fun of him for having them ever again.
Though the idea of high school as a transformative experience is key to both of these episodes; there's one importance difference in the way that transformation is represented. In "Tricks and Treats," adulthood is something to be avoided, and the geeks only embrace it reluctantly after the pleasures of childhood are transformed by their crueler peers into the nightmares of adolescence (i.e. Sam tosses aside his copy of Dostoyevsky to go out in his infantilizing homemade costume, then begrudgingly starts reading it after getting beaten up and egged).
In "Kim Kelly is My Friend," adulthood can't come soon enough — Sam spends most of the episode eating as much as he can in the hopes of jumpstarting his pituitary gland. Therein lies one of the ultimate contradictions of high school: teenagers desperately pray for physical maturity while simultaneously avoiding the accompanying emotional maturity for as long as they possibly can.
Sam's humiliation in this episode definitely hits home with me: even though I was never tortured by older and more developed women, I, too, looked like a pygmy geek all through my freshman year. "Kim Kelly is My Friend" writer Mike White has the details of pubescent neuroses down perfectly; the shame, for example, of not having any hair in your pits, an embarrassment "late bloomers" like Sam and myself were forced to confront every day of our lives in the gym locker room, which I recall as a particularly harrowing gauntlet of fear and degradation.
All that said, the geeks are definitely the B story this week. We barely see them after Sam and Neal's brawl; time constraints force their reconciliation to happen far too quickly and far too easily. The focus is squarely on the freaks, and particularly on Kim, whose fragile emotional state you so carefully laid out earlier. What I'd like to hear more of, though, are the reasons Kim Kelly is your favorite character, Alison. Were you a Kim Kelly in high school?