"Jean-Michel Basquiat: The Radiant Child," The Story of a Bright Light and its Dark End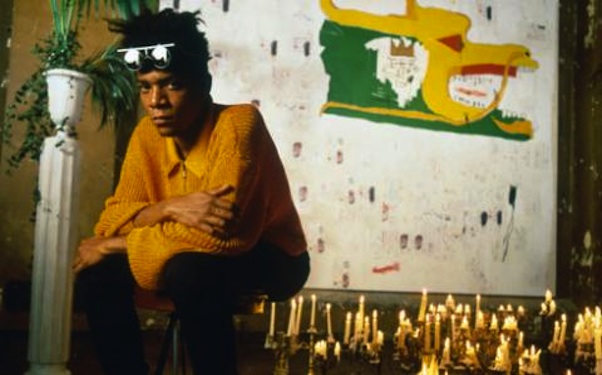 Posted by Matt Singer on
Jean-Michel Basquiat gave the world thousands of pieces of art but very few interviews. His friend, filmmaker Tamra Davis (director of the cult films "CB4" and "Half Baked), recorded one of the rare ones in a room at the L'Ermitage Hotel in Beverly Hills in June 1986. Basquiat died two years later of a heroin overdose and Davis, worried she might be taking advantage of her friend's legacy for personal gain, left the footage in a drawer for over 20 years. She was finally convinced to share it with the world, first in a 20-minute short film and now as part of the new feature documentary, "Jean-Michel Basquiat: The Radiant Child."
Davis' candid interview with Basquiat is only a small (albeit crucial) element of her 93-minute film. The rest is a mixture of archival footage of late '70s, early '80s New York and reflections from Basquiat's friends, collaborators, contemporaries, clients, and lovers. Collectively, they paint a portrait of the artist as a young, brilliant, and fragile young man with an almost uncontrollable need to create, an uncanny ability to filter history and culture through his unique perspective, and a precipitous fall from grace. "The Radiant Child" also features glimpses of many pieces from Basquiat's prodigious catalog, but they're just that: glimpses that rarely last longer than a second or two. The film is more interested in appreciating Basquiat's legacy than any of his individual pieces.
The Basquiat conjured by his associates in "The Radiant Child" excelled at everything (well, almost everything; he never was great at talking about his work on camera). He was a suave dancer, a good friend, an ingenious self-promoter and, of course, a natural artist with a tireless work ethic and a rich sense of his medium's history. Davis effectively places us right in the middle of the era's hipster parties, couch surfing, and basement studios, but I wish she'd asked the question "Why?" a bit more.
Why did Basquiat have the sudden and epochal impact that he did? If he became such an enormous overnight success, then why did the biggest galleries and dealers suddenly refuse to work with him? The film's tendency to favor rosy recollections from Basquiat insiders over probing analysis from art critics might make it play better for aficionados (who can fill in the details) than neophytes (who, like me, were left asking a couple questions).
Since I'm more familiar with the modern independent film world than the Lower Manhattan art scene of the 1980s, I found myself repeatedly drawing comparisons between Basquiat and "The Radiant Child" and another documentary about the art world from earlier this year, Banksy's "Exit Through the Gift Shop." Basquiat first rose to prominence as a graffiti artist with the handle SAMO (for "Same Ol' Shit") but like Banksy, Basquiat's street art was a lot more than simple vandalism: it ran the gamut from pop aburdism to political statement to dry observational humor.
The art world of "Exit Through the Gift Shop" — money-hungry, star-fucking — hasn't changed much since Basquiat's days, though in making his own film to satirize it, at least Banksy's gotten a modicum of revenge against the people who've exploited his work. Basquiat, on the other hand, was exploited and then discarded then exploited again once his death made his work that much more of a commodity.
Davis doesn't necessarily hold the art world responsible for Basquiat's premature death, but she also doesn't paint it in a particularly flattering light either. Her view seems to line up with Bansky's. At best, it's a necessary evil. At worst, it's a toxic mix of wannabes and parasites who attach themselves like leeches to genuine talents.
But despite the tragic ending, what lingers about "The Radiant Child" after it's over is the amazing legacy that its subject left behind. Though it could have used a bit more critical context, the film offers exactly what it promises: a warm and intimate look at a talent who burned brightly, and all too quickly.
"Jean-Michel Basquiat: The Radiant Child" is now playing in New York.