James Bond's on Hold, But Will Anyone Miss Him?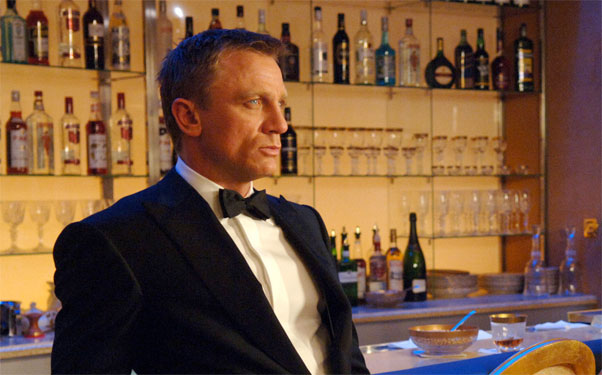 Posted by Alison Willmore on
In the end, it's neither maniacal billionaires nor razorblade-hatted henchmen nor SPECTRE itself that's poised to bring down James Bond — it's the true archvillain of the 21st century, crushing debt. Three months ago, the 23rd Bond film, set to be directed by Sam Mendes, was put on indefinite hold while MGM, who own the rights to the character, has attempted to deal with financial struggles to the tune of $4 billion.
Checking in from the London launch party for the video game "James Bond 007: Blood Stone," the Hollywood Reporter noted the unease EON Productions' Barbara Broccoli and Michael G. Wilson seemed to feel about a delay in the franchise so soon after it was successfully rebooted, quoting a "former MGM insider" as saying "They're completely panicked that if they go five, six years without a Bond movie, it'll be over. They don't want to kill the golden goose."
But does anyone ever really feel a sense of urgency over James Bond? The recasting of the role and the reboot only reinforce the static nature of the character — he may come in jokier (Roger Moore) or tougher (Daniel Craig) variations, but he's still the unmovable axis around which an ever-changing, ever-in-need-of-saving world periodically revolves. That steadiness is both his foremost asset and his weakness. There's no doubt that, even with delays, there will eventually be another Bond film, because Bond's a safe bet for a diverting few hours at the movies (and a few hundred million at the box office).
At the same time, no one quivers with anticipation over the developments to come in the next installment, because there's only so much room for variation — there will be Bond girls, there will be a bad guy and a lesser bad guy or two, there will be a complicated plot to be uncovered and foiled. It's the nature of Bond, even in his newest, angstiest incarnation, to avoid permanent attachments and, though the last handful of films have subjected him to the threats of aging, grief and obsolescence, significant character growth.
Recent spy movies and TV shows — even the otherwise delightfully silly Cold War-throwback "Salt" — have made a point of emphasizing the terrible personal costs of espionage, with trust issues and the imperiling of one's friends and lovers at the heart of everything from "Duplicity" and the Bourne films to the shows "Covert Affairs" and "Chuck." But we know that Bond's going to have to get over his own formative heartache, to grin, get a martini and go on. What's the rush? It's not like audiences are going to forget him.
In the meantime, Daniel Craig's certainly not hurting for work. He's just signed a deal to take part in a newer, hipper franchise — he'll play crusading journalist Mikael Blomkvist in the David Fincher-directed American adaptation of "The Girl With the Dragon Tattoo."