Jack Ryan, the character who can't seem to hold down a franchise.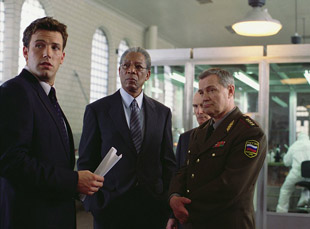 Posted by Vadim Rizov on
In an interview with the AV Club that ran through his past roles, Ciarán Hinds made a revealing statement about his participation on the last installment in the Jack Ryan movie, "The Sum of All Fears." He recalled coming up to director Phil Alden Robinson on the second day of the shoot and saying "It's lovely to meet you and thank you. I don't know how I got this job." Robinson's all-too-believable response: "I don't know why they asked me to direct this film, either."
That desultoriness perfectly characterizes the Jack Ryan movies, a series based on the Tom Clancy character that seems to have proceeded more from inertia than anything else. Unlike the smooth, interlocking machine that is the "Bourne" trilogy, the Jack Ryan movies have gone through three actors and directors, separated by 12 years, and are about to be rebooted again, probably with Chris Pine succeeding Alec Baldwin, Harrison Ford and Ben Affleck. It's easy to imagine some overqualified supporting actor on the eventual set having the same conversation Hinds did with whoever ends up directing.
Part of what worked about the "Bourne" films — beyond the quality of their actual filmmaking — is that they scrapped the geopolitical context of Robert Ludlum's books and started over. The Jack Ryan films only half did this, changing back stories but keeping the national enemies the same until "The Sum of All Fears," at which point the gap between publication and production date had grown too large and it was no longer feasible (or advisable, anyway) to make a movie with a bunch of Muslim terrorist bad guys. (The movie subbed in an Austrian neo-Nazi.)
Just as Clancy has sold his name as a branding tool and assembles research into novels as opposed to policy statements, the movies have taken his name and, at this point, are practically hollowing it out.
Clancy's not as good a writer as his mega-selling peers Stephen King and John Grisham, and because of that the character of Ryan seems perpetually undefined — former Merrill Lynch guy, CIA operative, eventually president, but always just another resourceful yet somehow anonymous white establishment dude.
And maybe that's why no actor has ever managing to make Ryan his own, to stake down the kind of Bond-esque franchise the studios have hoped for. "Clear and Present Danger" was a sequel to "Patriot Games," but it never really stuck — the two are probably the most forgotten financially successful movies of Harrison Ford's career.
Yet Hollywood sticks with it, because most of the subsequent wave of bestselling airport thrillers aren't anywhere close to coming to their big-screen moments — work from guys like Brad Thor, who gives lectures at the Heritage Foundation and is a regular on Glenn Beck's show, or Vince Flynn (same). Their uber-conservatism (and the attacks of Islamophobia that shadow them) mean that there's no new generation of thriller writers to provide plausible grist for the blockbuster mill, which shies away from that kind of contentiousness. So Clancy it is.
Speaking of Clancy, here is a retroactively surreal video of him being consulted for (I guess) his "political expertise" on CNN, on 9/11. Don't watch this if you get easily upset:
[Photos: "The Sum of All Fears," Paramount, 2002; "Patriot Games," Paramount, 1992]