God help whoever gives "Inception" a negative review.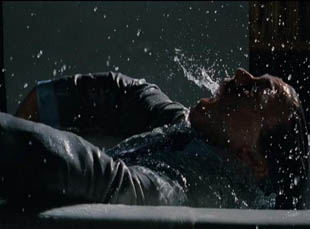 Posted by Vadim Rizov on
Despite a disclaimer that "we're not critics here at 24 Frames, so no review in this space," Steven Zeitchik's long, interesting take on "Inception" at the LA Times is definitely a review, and a pretty good one at that.
Presumably when the movie actually opens Friday, all hell will break loose, crowds will riot en masse and anyone foolish enough to take acid before showing up to the theater will probably never be the same after — or so the orgasmic early reviews would have us believe. Zeitchik, bless him, offers a more measured series of qualifications and hedges without throwing down any Armond White-esque gauntlets.
His most cogent insight is on how twisty and disorienting the film actually gets — he first compares it to "Mulholland Drive," and then goes for the kill: "Lynch is a surrealist creating a surreal world, but Nolan is a rationalist creating a surreal world." Yes and yes, and moreover that's the source of the slight danger scent "Inception" gives off. The abstract notions about perception that fascinate Nolan can only be examined in fantastical scenarios, but he's not at heart a fancifully minded person.
That feeling of too many twists is a familiar one. There's a point in, say, David Mamet's "Heist" when you just turn off because it becomes obvious that what you think you know and who has the balance of power can be switched up every two minutes until Mamet gets bored with his own game. It becomes a waste of time because the only real question is who wins. Nolan, too, has the potential to outwit himself that way, though he's yet to do it.
While not discounting the wild praise "Inception" has received so far, Zeitchik concludes that it's as much due to critical relief at something to really think about as much as to the film itself, a week at last devoid of "Prince of Persia" or "Marmaduke."
And maybe that's why Zeitchik insists he isn't writing a review (well, that and he doesn't want to step on the assigned critic's toes) — god help anyone who writes a negative review of "Inception" (or even just a wanly enthusiastic one). They're going to get more angry e-mails and comments and personal attacks than anyone could handle. There's almost no point in reviewing the film right now — the narrative for it, that it's the greatest thing since sliced manna, is already set in stone.
[Photos: "Inception," Warner Bros., 2010]