In Rainbows, pass the dutchie.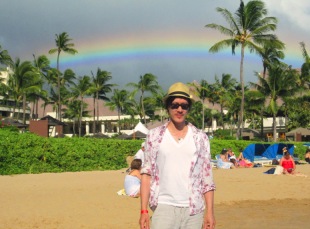 Posted by Brandon Kim on
I was in Maui, Hawaii for a few short days for a family reunion thing, though none of my family is from there. I didn't get to sail around with island girls playing the ukulele and drinking at sunset on a catamaran like I wanted so it was kind of a wasted trip. Although admittedly, just standing on Hawaii for a few days is pretty nice. It's cooler there than it is in NY too.
Usually when I go somewhere I try to delve into the local music but that's not so easy on Maui. I fear the local music is ever more the sound of a driver smacking a golf ball. Such a shame, those golf courses, where once there were sugar and coffee plantations exploiting the land and the people as far as the eye could see. Now the people aren't even exploited, they're hardly there at all. Most run off with runaway cost of living. A burger was $18 on Kaanapali beach. I think you got a little slice of pineapple though.
Those Polynesians navigated their twin hulled catamarans with nothing but the constellations thousands of miles in like 500 AD when Europeans were still hugging coastlines and not bathing. The Polynesian settlers found paradise and kept it nice for a millennium until "we" arrived. Later, in 1893 the last sovereign of Hawaii, Queen Liliʻuokalani was overthrown and deposed by powerful businessmen interested in sugar and coffee. Hawaii became ours. Now there are golf courses and $18 beach burgers.
But just look at that rainbow over me. Incredible isn't it? It's like that everyday, they are everywhere, sometimes in pairs! What's crazy is that all the fat people whaling on the beach didn't seem to care. They had their burgers and their tans. Well, I thought it was the best. I tried to climb the mountain and touch it, but never did find it once I was up there. Tricksy things.
Below the magic sky were the Hawaiian airlines ground crews, who I found played the only good music the whole time I was there. Everything is open air there you know, so while walking through the concourses you can lean out and watch them driving around. I always peep the ground crews and watch the little luggage cars at airports and I've never seen a happier crew than the one at Honolulu International. Still some jobs for locals, it's not all bad. These guys were cruising around in those little cars jamming to "Pass the Dutchie" absolutely blasting on some unseen sound system, in rainbows.