The big dreams of Lou Illar, the guy who wrote "Sidekicks."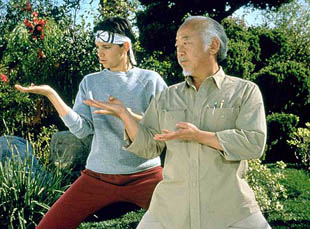 Posted by Vadim Rizov on
It already seems like ages ago that the "Karate Kid" remake came, conquered and moved on. But only now is Lou Illar, "known" for writing the 1992 Chuck Norris-Jonathan Brandis movie "Sidekicks," has issued a statement to the press on the cinematic worthiness of his chosen martial art.
"Karate is tailor-made for the movies. It's exciting to watch, and involves personal and spiritual components that make great story-telling devices," Illar says in his press release, which notes he's "in pre-production for 'Sidekicks II' while witnessing firsthand the resurgence of martial arts from his Louisiana Dojo":
No doubt the continual popularity of "The Karate Kid" reflects America's never ending admiration and support for those who selflessly achieve a moral victory. This flick nixes the love some kids have for things and replaces it with the moral respect that Americans still want to find in one another. "The Karate Kid" has and always will reflect American grit and morality!
Aside from "Sidekicks," Illar self-published two books, the most recent one "Believe Me Or Your Lying Eyes", which purports to tell "An Entertaining History of Casinos, Corruption and Charities in America" but which also appears to propose (at least from the excerpts I could read online) that Chuck Norris is among the things that are ruining America.
You'd think a man whose greatest claim to fame depended on Mr. Norris would not attempt to be his biggest enemy. But Illar claims Norris has tried to kid us "into believing him to be God's messenger," and that he has a tendency "to now withhold our freedom of thought and speech by expanding through a myriad of 'trade mark' registration documents his right to censor his past."
One can only imagine how hostile chapter four — "Chuck Norris, The Author?" summarized in the table of contents with the questions "Would a movie star lie to us? Can a movie star lead three lives?" — is in comparison.
The irony of all this is that the kind of meat-and-potatoes action movie Norris stands for — the kind Illar is proposing the return of — are as fundamentally conservative as Norris' politics. As the LA Times' Steven Zeitchik noted while attending ActionFest earlier this year, his fans like movies "in which bad guys are bad guys and good guys are good guys, none of this 'Dark Knight' moral relativism stuff."
So if Illar wants to resurrect a certain breed of action film, but to liberal ends, he has quite a challenge ahead of him — especially if it means leading the way with "Sidekicks 2."
[Photos: "The Karate Kid," Sony, 1984; "Sidekicks," Sony, 1992]