The Guilt-Inducing Ghost Wife Haunts the Movies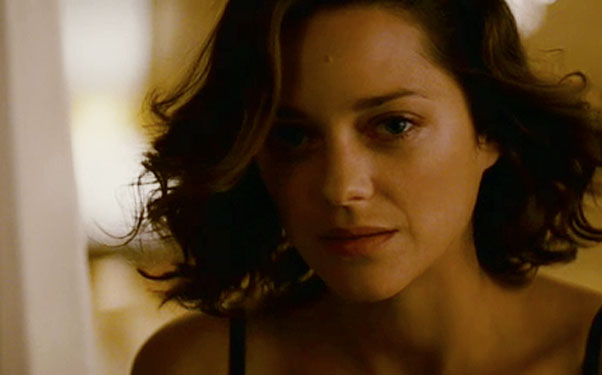 Posted by Alison Willmore on
The AV Club's Nathan Rabin coined the term "Manic Pixie Dream Girl" to describe characters like the one played by Kirsten Dunst in "Elizabethtown," ebullient, impulsive types who've apparently waited all their lives to meet and instantly imprint on subdued male protagonists.
I'd propose there's a counterpart to the MPDG, though I don't have nearly as catchy a name. That would be the guilt-inducing ghost wife, filmed in ethereal late afternoon light, fragile, frequently desexualized, a specter of memory and failure haunting our tortured, widowed heroes — why couldn't I save her — in visions, flashbacks or more fantastical set-ups.
Idealized and resented, ghost wives are both saint and tormentor, instrumental to the plot, spurring our mourning hero on to seek revenge, redemption or resolution. Like the MPDG, there's a distinct subjective quality to their characterization — they're along for the ride, but they don't get to tell the story. Unlike the MPDG, being dead, the best they can hope for is to be banished or joined in the afterlife.
Here are six examples from the last decade. Spoilers follow for "Inception," "Shutter Island" and other films on this list.
"Inception" (2010)
Directed by Christopher Nolan
To call Mal, played by Marion Cotillard, the main antagonist in "Inception" is skirt the fact that she only exists in the mind of Leonardo DiCaprio's master dream thief Cobb, who is actually his own worse enemy. Cobb's tormented by the loss of his wife, whose death he believes he's responsible for, though at first we don't understand why. And so his guilt congeals in the form of a ghost in the machine, with Mal bursting into Cobb's carefully planned extractions to gum up the works.
The press notes describe the evening dress-clad Mal as a femme fatale (her name even means "bad" in French), but that implies she has agency and an agenda of her own, instead of being an acknowledged pale shadow of someone long gone, an especially fleshed-out projection. Even as an apparition, she's only half adversary — the other side manifests as a prisoner of Cobb's regrets, trapped in the basement of his subconscious, where he can visit and brood until forced to choose between her (and death) and moving on (and life, or at least a choice that represents it). For all of her initial mystery, Mal turns out to be mainly a figure of pop psychology.
"Shutter Island" (2010)
Directed by Martin Scorsese
Mourning a late spouse has become a new specialty of Leo's — in Scorsese's most recent film, he plays US Marshal Teddy Daniels, whose investigation into the vanishing of a patient from an isolated hospital for the criminally insane is hampered by visions of his departed wife Dolores (Michelle Williams), who despite having died in a fire appears suspiciously damp in these hallucinations. Dolores highlights another not uncommon aspect of the ghost wife, which is that their supernal air can disguise considerable personality complications or flat-out craziness.
There's no doubt that there's a trauma at the heart of "Shutter Island" — all of the imagery, even the flashbacks to the Holocaust, are just shadows cast by it. But given how wracked with guilt Teddy is, isn't the ultimate reveal of what set everything in motion is a little… anticlimactic? That was Dachau back there as some sort of metaphor, wasn't it? His shouldering the culpability for what occurred carries a whiff of melodramatic martyrdom or even condescension. Ultimately, Dolores, like Mal, is a broken doll, who required protection from herself.
"Solaris" (2002)
Directed by Steven Soderbergh
More so than the Tarkovsky version, Soderbergh's take on Stanisław Lem's story puts the relationship between its central psychologist (played here by George Clooney) and his late wife (Natascha McElhone) ahead of everything else. The alien ocean planet of the title seems, like the subconscious panoramas of "Inception" and the visions of "Shutter Island," to be at heart an in-between place where memory can be made flesh — "we don't want other worlds, we want mirrors," as Kelvin's friend Gibarian puts it in a posthumous video message.
Literal flesh, in this case — Rheya, who committed suicide years ago, appears like a dream to Kelvin in his sleep, after he arrives at the space station to investigate what's apparently driven everyone stationed there mad. Unlike a dream, though, she's still there when he awakes, a being created by alien forces from Kelvin's memories of the woman he lost. And, because she's just (and only) as Kelvin remembers, she's desperately in love with and in need of him and just as desperately unstable and unhappy. He finds himself trying to atone for his abandonment of her the first time around just as she finds out what happened to her early incarnations and prepares to let the past repeat itself.
"The Fountain" (2006)
Directed by Darren Aronofsky
While she also appears as a vision in other sections of "The Fountain," in the present-day storyline Rachel Weisz manages the rare accomplishment of being a guilt-inducing ghost wife before she's even dead. As Izzy, Tom's (Hugh Jackman) beloved cancer-stricken spouse, she has the celestial glow that only a cinematic terminal illness can give you. She's still there, trying to savor her limited time left, but Tom (Hugh Jackman) is so consumed with saving her, with finding a cure, that he's essentially already arrived at the same state as the obsessed, isolated protagonists in the films already mentioned.
You can make a strong case that both the conquistador strand and the far future one are fictions with the world of the film — not just because of their visuals, how they echo off textures and tropes of the present day story, but also because they're elements of the story that Izzy is writing, one that starts in Mayan times but ends in Xibalba, the dying star, the underworld. Izzy asks Tom to "finish it," and whether he arrives at his peace by completing her story or by living for eons and traveling with a magic tree in his space bubble, it's clear that resolution can be found only in his accepting mortality — for her, and for himself.
"The Road" (2009)
Directed by John Hillcoat
The character of the wife/mother (who, like the two protagonists, is unnamed) was beefed up for John Hillcoat's adaptation of Cormac McCarthy, likely to provide breaks from the film's oppressively grim post-apocalyptic present as well as to up Charlize Theron's screen time. The result is classic ghost wife — Theron's character is glimpsed in the blissful, honey-colored past, asleep on the grass, or smiling at a concert. The man (Viggo Mortensen) wakes from dreaming of her and weeps — she embodies the whole world that's been lost, a better time when people weren't, you know, eating each other.
As, in the flashbacks, things fall apart — rioting outside, the weather getting colder, electricity failing — Theron's character retains her slightly otherworldly quality, that sheen of memory, even as she grows pensive and sad and asks "what kind of life is this?" It's as if she's tied to the past and fading along with it. And she is — she chooses death, and there's an implied censure to her abandoning her husband and son to this terrible world, though by the film's end, she looks like the smart one.
"Memento" (2000)
Directed by Christopher Nolan
What can I say? Nolan's a fan of the ghost wife.
Jorja Fox's unnamed character, glimpsed only in Leonard's (Guy Pearce) not entirely reliable flashbacks, even looks a little like "Inception"'s Mal, haircut-wise. And since we only ever see her as filtered through Leonard, she's just as subjective a presence as Mal, an idealized, slightly fuzzy remembrance of a woman who might have died in a violent confrontation, or might have committed suicide by brain-damaged husband.
Is Leonard's wife the one from the Sammy Jenkins story, asking for insulin again and again in hopes of jarring her love from his psychological troubles? If so, she's not just a figure to inspire vengeance, and Leonard's endless self-created quest to find her killer. She's one of guilt, one to escape, because in the end her death came from the fact that he wasn't able to become what she wanted — the man he was before the attack.