The "Greenberg" DVD cover promises a cheery rom com that's not, you know, misanthropic at all.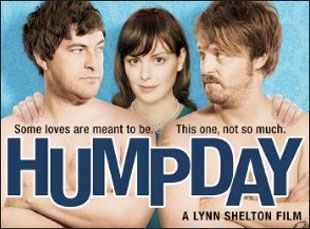 Posted by Vadim Rizov on
Late last year, there was a kerfuffle over the "degaying" of the "Humpday" DVD cover. The theatrical poster featured a shirtless Mark Duplass and Joshua Leonard looking at each other in front of pink floral wallpaper. The DVD went instead for a blue backdrop and inserted Alycia Delmore between the two guys, apparently to convey the crucial message "THIS MOVIE IS NOT GAY." And it's not, but c'mon.
Film marketing has a long history of misdirection — to cut together a compelling trailer for a crappy movie is a minor miracle of craft in and of itself. The same goes for the fine graphic designers and marketers who try to put what they believe to be more audience friendly spins on movies, regardless of how accurate they are. When it comes to DVDs, a swap in tactic usually means however the movie was marketing in theaters, it was deemed inadequate.
The DVD cover for "Greenberg," strictly speaking, isn't "deceptive" — it doesn't shoehorn in any small children, or use the dog from the movie to imply that Ben Stiller's thorny little heart will be warmed by canine friendship. It's misleading in a different way — the colored tiles framing everything look like nothing so much as a kids' daycare center.
You don't have to know very much about the psychology of colors to know that those peppy visuals, the faux-bashful-romantic-grinning shown by Stiller and Greta Gerwig (where in the world did they find a still of him smiling from the movie?) and the childish scrawl of the blurbs suggest something that's tonally entirely different from what "Greenberg" actually is (i.e., black comedy for misanthropes).
My all-time favorite abuser in this category is the DVD for Gus Van Sant's "Gerry," an awesome movie that's assuredly not for everyone, seeing as much of it is either Matt Damon and Casey Affleck walking through the wilderness or Damon and Affleck improvising hilarious dialogue that refuses to advance what little plot there is.
The DVD, smartly, doesn't mention any of this. What it does say: it's a film by the director of "Good Will Hunting" and "Finding Forrester. It's true, but doesn't deal with the fact that Van Sant's commercial work in no way resembles what he explores in "Gerry," "Elephant" and his other, more personal, films.
The image is of a still of two unrecognizable men running in front of a picturesque sunset, and the back copy summarizes the film as "an intense life-and-death journey that will test the strength of human endurance and ultimately, their friendship!" Which is, as an act of interpretation, superb, but has nothing to do with the experience of watching the movie.
I can't believe there's a greater example of DVD misdirection. But perhaps you know of one and can share below.
[Photos: "Greenberg," Focus, 2010; "Gerry," Miramax Home Entertainment, 2002]