The Doc Days of Summer: "Great Directors"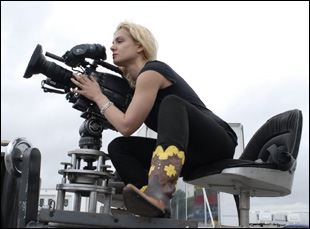 Posted by Stephen Saito on
Angela Ismailos probably wasn't intending herself to be included when she gave her film the simple title, "Great Directors," but when the film played to a standing ovation at the Venice Film Festival last year, Ismailos figured they were just applauding for the ten internationally renowned auteurs she profiles.
"Todd Haynes was like 'get up!'" laughed Ismailos, who eventually realized it was the only thing that would stem the five-minute-and-counting ovation. "Marco Müller, the director of Venice told me, 'I've never seen an audience touched so much by a documentary.' I guess it reminds people what all good cinema used to be."
Indeed, "Great Directors" will likely have movie lovers running to their local video stores and Netflix queues to discover or revisit the work of the ten directors Ismailos gathered for her documentary, a celebrated group that includes Bernardo Bertolucci, David Lynch, Stephen Frears, Agnès Varda, Ken Loach, Liliana Cavani, Todd Haynes, Catherine Breillat, Richard Linklater and John Sayles. But the film is far from the rote dissertation of the directors' greatest hits that one might imagine, instead benefitting from Ismailos' curiosity as a burgeoning filmmaker and free-associating interrogator.
Ismailos was actually working on a fictional film of her own when she decided to take the research she was doing with screenings of French New Wave and Italian neorealist classics and channel it into a full-fledged "thesis on cinema." That ability to shift gears effortlessly is one inherent to "Great Directors" as a whole.
The documentary flows freely between talk of cinema, of course, but also of politics (Frears notes the media had a very different relationship with politicians when he started, saying "[The BBC] encouraged you to misbehave"), class structure ("In America, there are classes and we don't like to talk about them," says Sayles) and sexuality ("Eroticism, I don't know what that is," says the always provocative Breillat).
Offering context for their work, "Great Directors" sees the ten directors discussing the experiences and influences that shaped them rather than anecdotes from their sets; Lynch, who ironically tells some of the film's best inside production stories, warns Ismailos early in the film, "As soon as you make a film, people want you to talk about it. The film does the talking."
In fact, Lynch was the last person to agree to be interviewed, but was won over by the same personalized letter-writing campaign that Ismailos used to persuade other filmmakers to be in the film, with a pitch steeped in her own love of Jean Cocteau, Tarkovsky and Renoir and focusing on the fact that she "wasn't a journalist, I was a filmmaker and I didn't have any specific questions."
Some early reviews have taken Ismailos to task for including herself so prominently in "Great Directors," with several noting her eye-catching flaxen locks as one of the film's main characters. Yet one wonders whether anyone else could have gotten the same degree of openness from her subjects, including this bit from Lynch on the failure of "Dune," which we have as an exclusive clip here:
"I think to face your failure as a human being and as an artist is very important," said Ismailos, who also devotes significant screen time to Linklater's "The Newton Boys" and many of the lesser-regarded works of the directors on hand.
Even of their triumphs, Ismailos catches Cavani saying her "Night Porter" that "We were shocked and even a little offended by its success." Likewise, the usually reticent Frears speaks to the accomplishment of "My Beautiful Laundrette" as being ultimately being a failure since he envisioned it as an attack on Margaret Thatcher and its financial success led "[us] all to become small businessmen, which is what [Thatcher] wanted."