Go Back to Wonderland with "Alice: Madness Returns"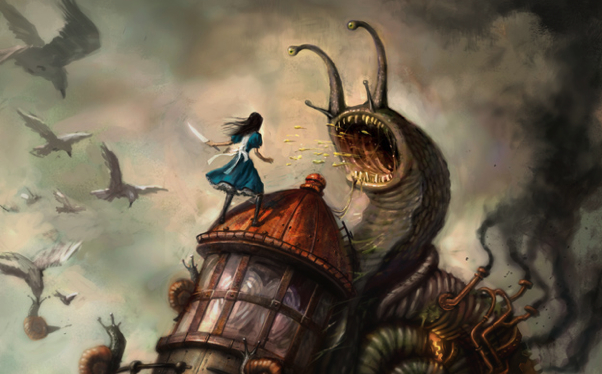 Posted by Evan Narcisse on
About a decade ago, iconoclastic game designer American McGee (yes, his real name) worked with a team at Electronic Arts to craft a twisted video-game version of Lewis Carroll's "Alice in Wonderland." "American McGee's Alice" went on to become a classic, selling more than a million copies and becoming part of an influential canon of games that achieved a level of forward-looking textual complexity. It was macabre and dark but also privileged its source material in a way that later games like, say, "Watchmen: The End is Nigh" wouldn't or couldn't.
By having its lead character travel back to Wonderland after a terrible trauma, "Alice" carved out complicated ideas about redemptive power of imagination. It was also an influential games insofar as crafting a level of metaphor for the relationship between the real-life player and the gameworld. McGee's fairytale re-imaginings have caught Hollywood's attentions, too, as his vision of "Alice" was optioned by horror master Wes Craven in 2001. But, the project's currently in limbo.
Now, American's having a homecoming of sorts with the announcement of "Alice: Madness Returns," being developed under the EA Partners label. The sequel places players not only in the dark Wonderland of the first game but also in the London of yesteryear. The teaser above hints that Alice may be undergoing hypno-therapy in an asylum, so one wonders is she herself will be the link between the two worlds.
"Madness Returns" is scheduled for release in Fall 2011. It's being developed by McGee's Spicy Horse studio in China and will be out for PC, PS3 and Xbox 360.