The (Game)Play's the Thing at a Cutting-Edge Theater Festival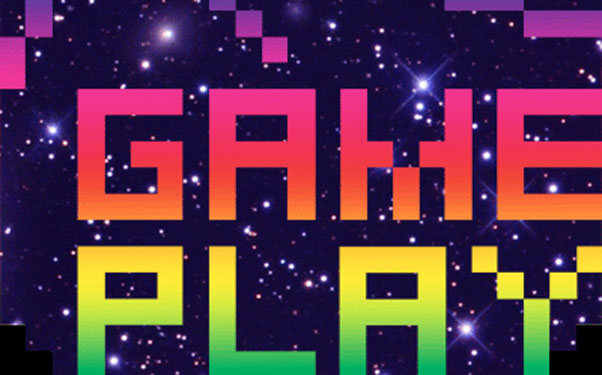 Posted by Evan Narcisse on
Video games and movies, for better or worse, seem to be a natural pairing for artistic crossover by virtue of their shared heritage in the moving image family. Theater, on the other hand, with its emphasis on the synergy between live humans to create once-in-lifetime performances, may not seem to be a great fit for a medium focused primarily on disembodied entertainment.
But that kind of fusion's exactly what's happening at the Brick Theater, the Brooklyn art space that will host the second annual Game Play Theater Festival, where performers try to meld live acting with elements of video game play over the span of three weeks. Game Play's the brainchild of Gyda Arber, a New York City-based theater actress and director.
This year, Game Play will stage five productions from July 9th through the 25th. Eddie Kim's "Grand Theft Ovid" uses machinima to adapt some of the ancient Roman playwright's stories, while "Theater of the Arcade," a collaboration between Arber and Jeff Lewonczyk, recasts stories from seminal old-school games like "Donkey Kong" and "Pac-Man" into theatrical experiences. "Modal Kombat" features classic guitarists David Hindman and Evan Drummond battling it out in a sonic showdown, thanks to a version of "Mortal Kombat" that's been rigged to respond to instrumental input.
In addition to the plays, the festival will host several parties, including a "Rock Band" Karaoke Night and a dance fete with wearable, playable indie games from the Babycastles collective. Kim, Arber and Hindman took some time away from preparing for opening night to talk about the inspiration and process behind their pieces.
Gyda, theater and technology are two things that people may not associate with each other. Are you coming at this from the perspective of a rabid gamer? Or did something else spark the desire to create and curate Game Play?
Gyda Arber: There are a large number of Brick artists that are big video game nerds, myself included. I think there's a surprising overlap between theater nerds and video game nerds. The intersection is something that artists we work with have been playing with for a few years, and last year we found ourselves with three shows all involving video games in some way: "Suspicious Package," "Adventure Quest" and "Thank You But Our Princess Is In Another Castle." It seemed only logical to create a mini-festival to promote all three, and it was such a success last year that everyone at The Brick agreed we should make it an annual event. We're happy to return with even more shows and events for everyone to enjoy.
"Theater of the Arcade" uses arcade classics like "Donkey Kong" and "Pac-Man" as a base but the games really had little story, save for the one happening to the player as he or she progressed. Do you feel like video games have stories that can be passed down from generation to generation?
GA: It's really been fascinating directing "Theater of the Arcade" — Jeff Lewonczyk has done an amazing job recasting these plots as classic dramas, and I'm constantly amazed how well they actually play out. I think the scripts are very funny, but are actually also quite touching in many places, unexpectedly so. We're sticking with classic old-school games, so the plots are a lot more simple than, say, "Heavy Rain" or the recent "Final Fantasy" titles, but I think they'll appeal to gamers of many generations.
David, it seems like "Modal Kombat" could be a way to settle a lot of arguments about which guitar god is actually better. Where did this idea start?
David Hindman: The beginnings of this project have their roots at the Yale School of Music, where both Evan and I were graduate students in classical guitar. I used to go to Evan's apartment and play old-school video games on his PowerBook, which kind of planted the seeds for "Modal Kombat." After I enrolled in NYU's telecommunications program to get another masters degree, I took a class called "Hacking Everyday Objects." I took apart a video game controller, and figured out that I could rewire it to respond to MIDI commands. The rest is, as they say, historical non-fiction.