"Gallants," a geriatric kung fu comedy.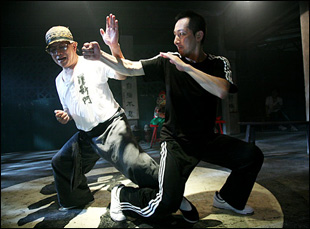 Posted by Matt Singer on
Reviewed at the 2010 New York Asian Film Festival.
If Betty White can host "Saturday Night Live" at age 88, why can't a bunch of former martial arts heavyweights headline their own kung fu movie at 60? They can, as evidenced by surprisingly athletic and impressively self-deprecating performances from Bruce Leung and Chen Kuan-tai in NYAFF selection "Gallants."
Unlike their aging American counterparts, who stretch their faces tighter across their skulls with each new role, Leung and Chen look every bit of their 62 and 64 years, respectively, which is exactly what this film, a very funny comedy about the cruelty of old age, demands.
Leung and Chen are Tiger and Dragon — don't expect much crouching or hiding, they're too arthritic for that stuff — the last remaining students of the once great Master Law (Teddy Robin), who has been lost to an endless coma for 30 years. Eternally loyal, they've stayed at his bedside and turned his martial arts club into a teahouse that's now part of a land dispute that dweeby young real estate agent Cheung (Wong Yue-nam) has been sent to resolve.
Lucky for Tiger and Dragon, he'd much rather learn kung fu than snatch the deed to the property, which was given to the Law club decades earlier by the father of the local bully (and object of Cheung's childhood aggressions) Mang (MC Jin).
Really, though, the film is less concerned with narrative than showcasing the still-feisty fighting skills of Leung and Chen, and the spot-on comedic timing of Robin, who awakens from his coma as a crazy old coot with no conception of how long he's been asleep. He promptly mistakes Cheung for Tiger and Tiger for a new student, and then lays out his hilariously Draconian club rules: 1. No guys with long hair. 2. No one who wants to learn kung fu for the health or fitness benefits. 3. No ugly people. His whole schtick is one extended riff on the cliché of the wise old kung fu master, but if it's a one-joke character, it's a damn good joke. In his one fight scene, Robin's Master Law is quickly felled by an errant fanny pack.
The Law clan's battle with a flashier, slicker school of kung fu mirrors these aging masters' struggle for relevance in the world of contemporary Asian cinema. Directors Derek Kwok and Clement Cheng have an obvious affection for their stars and the movies of their heyday, but they're not so blinded by admiration that they can't poke fun at them as well. Awesome as they are, those old kung fu flicks were a bit silly too, with their deadly venoms and excessively preening fighters, and "Gallants" does a nice job of memorializing all the stuff that made those films so simultaneously cool and goofy.
The film chugs along with a manic energy that belies the actors' age and it captures the spirit of the old Shaw Brothers style with an evocatively retro score and opening credits sequence. But even if you've never seen one of those movies before, there's a lot to enjoy about "Gallants."
This could have been an exercise in cheap nostalgia, and it's not. Taken entirely on its own, it's a wholly entertaining and touching movie about friendship and growing old. So why stop the old school revival at one movie? '70s-style kung fu by guys in their 70s would be awesome. Maybe they can get Betty White to play Master Law's long-lost wife in the sequel.
"Gallants" does not yet have U.S. distribution. It plays Tuesday, July 6 and 8 at 6 PM at the Walter Reade Theater in New York City.
[Photos: "Gallants," Focus Films/Newport Entertainment, 2010]