Revived and Derived: "Freaks and Geeks," the Pilot Episode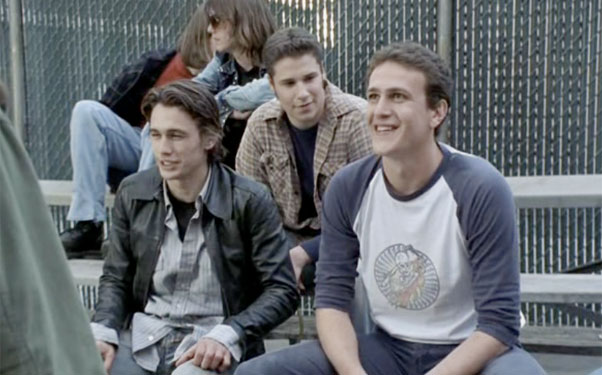 Posted by Alison Willmore on
"Freaks and Geeks" is now airing on IFC, and we thought we'd take this opportunity to revisit the show that launched a thousand bromance movies. Every week, Matt Singer and Alison Willmore will be offering their thoughts on that night's episode.
Episode 1: Pilot
Directed by Jake Kasdan
Written by Paul Feig
Originally aired September 25, 1999
"This my passion, you know? This is- this is the essence of who I am now. But before I had this, I was lost too. You see what I'm saying? You need to find…your reason for– for living, man. You've got to find, your big, just gigantic drum kit, you know?" –Nick
Alison: It's become beside the point to proclaim the excellence of "Freaks and Geeks." The success currently being enjoyed by creator Paul Feig, producer Judd Apatow and many of the cast members speaks for itself (and makes it all the easier to offer a derisive "I told you so " sniff in the direction of what, a decade out, still stings as a total heartbreaker of a cancellation).
But rewatching the pilot, you have to appreciate the sheer craft with which it's been made. Pilot episodes have a lot of business to manage — establishing characters, locations, relationships and, most essentially, audience expectations — and the pilot for "Freaks and Geeks" efficiently, ingenuously outlines all of its core dynamics in its long opening shot.
We start with a pretty blond cheerleader talking to a pretty blond football player, spouting the kind of overblown TV teenager dialogue we won't hear again on the show ("It's just that I love you so much it scares me").
And then the camera pulls away from them and shifts to where it'll keep its focus, on the outskirts of William McKinley High School society circa 1980. (It's a joke given a more extended riff at the beginning of "Harold and Kumar Go to White Castle," with Robert Tinkler and Ethan Embry heading off on an overgrown frat boy adventure we never see, because we stay with John Cho back at the office.)
There are the freaks — at least the boy ones — hanging out under the bleachers, Daniel (James Franco) telling a story of minor rebellion, Nick (Jason Segel) beaming with pot-fueled sincerity and Ken (Seth Rogen) providing the sarcastic commentary. Lindsay Weir (Linda Cardellini) lurks in the foreground, wanting but too shy to join them. And here comes Sam Weir (John Francis Daley) with his fellow geeks Neal (Samm Levine) and Bill (Martin Starr), showing off their Bill Murray impressions until they're interrupted by one of the many banes of their existence, bully Alan White (Chauncey Leopardi), and then, even more humiliatingly, by Lindsay coming in to save the day.
Poor Lindsay! Sam faces his share of humiliations over the course of this show — hell, over the course of this episode, with its epic dodgeball sequence, above, leaving him the last man standing, plastered against the wall of the gym like he's awaiting execution by firing squad — but I've always found Lindsay's desperate efforts to reinvent herself, to jump castes, to be cool, particularly in these early episodes, even more agonizing to watch.
Both of her attempts to rescue someone from social torment in this episode backfire, first with her brother, who even in his own cluelessness recognizes the ignominy of having your sister save you, and then with "special" kid Eli (a young Ben Foster), who doesn't want to hear that the guys he thinks are his friends are actually making fun of him, and who slips running away and breaks his arm.
While it's an early brush with mortality — being in the room as her grandmother died — that sets off her metamorphosis from Mathlete to freak, Lindsay's desire to change reflects that universal teenage longing to be able to try different potential identities on for size, all the while pretending any earlier ones didn't exist: I was never that girl, this is the real me.
But the new Lindsay, swimming in her dad's old army jacket, trying so hard to please, isn't any freer or any more comfortable in her own skin — not yet. The closest she gets is that moment of joy at the dance, inspired by, of all people, her supposedly hopeless little brother, when she really can ignore the (half-imagined) burden of all those eyes on her and the whole perilous labyrinth of high school and just be, well, herself. Whoever that might end up being.