First Wave of 2010 Toronto Film Festival Titles Announced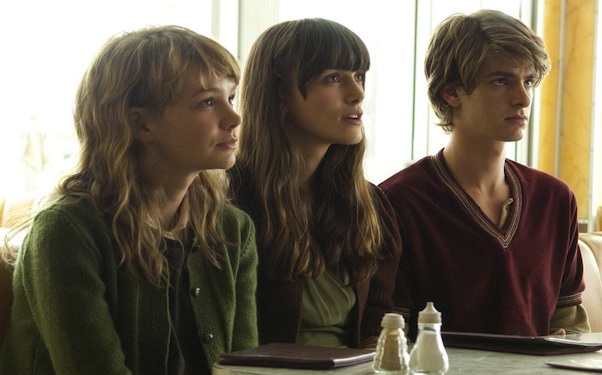 Posted by Matt Singer on
Earlier today, the Toronto Film Festival announced the first big chunk of their 2010 lineup, including films from Ben Affleck, Woody Allen, and Darren Aronofsky, and world premieres from Sylvain Chomet, Robert Redford, Michael Winterbottom and more.
Here's the full list of announced titles:
Galas
The Bang Bang Club
Director: Steven Silver, Canada/South Africa, World Premiere
A riveting drama based on the true-life experiences of four combat photographers in South Africa, who gained international fame and local notoriety for capturing violent images from the final days of apartheid.
Barney's Version
Director: Richard J Lewis, Canada/Italy, North American Premiere
Mordecai Richler's acclaimed novel is brought to life in this picturesque and touching story about Barney Panofsky, an impulsive, romantic, politically incorrect and fearlessly blunt Montreal man who tries to keep the tragic events of his past from overwhelming his hopes for the future.
Black Swan
Director: Darren Aronofsky, USA, North American Premiere
A psychological thriller set in the world of New York City ballet, "Black Swan" stars Natalie Portman as Nina, a featured dancer who finds herself locked in a web of competitive intrigue with a new rival at the company.
Casino Jack
Director: George Hickenlooper, Canada, World Premiere
This docudrama charts the career of Jack Abramoff, a Washington, D.C. businessman, lobbyist and con artist. After accepting illegal bribes in exchange for political favours, Abramoff and his protégé will pull out all the stops to try and avoid the law.
The Conspirator
Director: Robert Redford, USA, World Premiere
After the assassination of President Abraham Lincoln, a young lawyer must defend the mother of one of the accused in a court of law when a lynch mob calls for her death upon the scaffold.
The Debt
Directed by John Madden, UK, North American Premiere
Helen Mirren, Jessica Chastain and Sam Worthington star in this thriller about three Israeli Mossad agents on a 1965 mission to capture a notorious Nazi war criminal. Thirty years later, secrets about the case emerge.
The Housemaid
Director: Im Sang-Soo, South Korea, North American Premiere
In this erotic thriller, the housemaid of an upper-class family becomes entangled in a dangerous tryst. A satirical look at class structure, reminiscent of the work of Claude Chabrol, this sexy soap opera is a story of revenge and retribution.
Janie Jones
Director: David M. Rosenthal, USA, World Premiere
Aspiring recording artist Ethan Brand gets a stunning surprise on the opening night of a tour – a strung out former groupie appears unexpectedly, pleading with him to care for their daughter while she pulls herself together. Enter Janie Jones.
The King's Speech
Director: Tom Hooper, UK, North American Premiere
This moving biopic and historical period piece chronicles the efforts of England's King George VI to overcome his debilitating stammer with the assistance of speech therapist Lionel Logue.
Little White Lies
Director: Guillaume Canet, France, World Premiere
Despite a traumatic event, a group of friends decides to go ahead with their annual beach vacation. Their relationships, convictions, sense of guilt and friendship are sorely tested. They are finally forced to own up to the little white lies they have been telling each other.
Peep World
Director: Barry Blaustein, USA, World Premiere
On the day of their Father's 70th birthday party, four siblings come to terms with the publication of a novel written by the youngest sibling, that exposes the family's most intimate secrets.
Potiche
Director: Francois Ozon, France, North American Premiere
A bourgeois housewife (Catherine Deneuve) takes on a rough union leader (Gerard Depardieu) in François Ozon's sparkling comic war between the sexes, and the classes.
The Town
Director: Ben Affleck, USA, North American Premiere
Four best friends who moonlight as bank robbers are busy dodging the FBI, but things get complicated when their leader falls in love with a woman behind the till. Directed by and starring Ben Affleck, "The Town" is a gritty exploration of crime and its consequences.
The Way
Director: Emilio Estevez, USA, World Premiere
Martin Sheen plays Tom, an American doctor who comes to St. Jean Pied de Port, France to collect the remains of his adult son, killed in the Pyrenees in a storm while walking The Camino de Santiago. Driven by his profound sadness and desire to understand his son better, Tom decides to embark on the historical pilgrimage. Along the way he learns what it means to be a citizen of the world again and discovers the difference between "The life we live and the life we choose."
Special Presentations
Another Year
Director: Mike Leigh, UK, North American Premiere
A happily married, middle-aged couple are visited by a number of unhappy and lonely friends who use them as confidants. When an unmarried friend falls for their young son, they watch as events unfold.
Beginners
Director: Mike Mills, USA, World Premiere
When his 71-year-old father (Christopher Plummer) comes out of the closet, Oliver (Ewan McGregor) must explore the honesty of his own relationships. From the director of "Thumbsucker."
The Big Picture
Director: Eric Lartigau, France, World Premiere
French heartthrob Romain Duris stars in this crisp, beautiful adaptation of Douglas Kennedy's novel. A frustrated photographer and jealous husband sees a chance to escape his life, with treacherous results.
Biutiful
Director: Alejandro Gonzalez Inarritu, Spain/Mexico, North American Premiere
Director Alejandro González Iñárritu's new film "Biutiful" follows Uxbal (Javier Bardem) a father with ties to illegal activity who is confronted by an old friend, now a policeman. Bardem won the award for best actor at this year's Cannes Film Festival for the role.
Blue Valentine
Director: Derek Cianfrance, USA, Canadian Premiere
Ryan Gosling and Michelle Williams turn in powerful performances in this portrait of two lovers at the beginning and end of a relationship.
Brighton Rock
Director: Rowan Joffe, UK, World Premiere
Based on Graham Greene's 1938 novel, we follow the odd relationship between a young thug on the rise in the British underground and a tea room waitress who witnesses a crime he has committed.
Buried
Director: Rodrigo Cortes, Spain/USA, Canadian Premiere
Ryan Reynolds stars as a civilian contractor who wakes up in Iraq, buried underground with only a Blackberry and a lighter. Astonishing one-man thriller.
Conviction
Director: Tony Goldwyn, USA, World Premiere
Convinced that her brother has been wrongly imprisoned for life, a high school dropout and single mother of two attempts to earn a law degree in order to take up his cause and overturn his unjust conviction.
Cirkus Columbia
Director: Danis Tanovic, Bosnia and Herzegovina, International Premiere
After twenty years of exile, a husband returns to his hometown in Herzegovina to settle some scores with his ex-wife, armed with a new Mercedes, a sexy new girlfriend and a mangy black cat.
Dhobi Ghat
Director: Kiran Rao, India, World Premiere
Set in Mumbai, the lives of four characters intersect at Dhobi Ghat. First-time filmmaker Kiran Rao directs her Bollywood superstar husband, Aamir Khan, in the lead role.
Easy A
Director: Will Gluck, USA, World Premiere
When a straight-laced high school student pretends to lose her virginity to a friend, the local gossips paint her as a veritable Hester Prynne from the "The Scarlet Letter." That is, until she starts using the gossip to her own advantage.
Henry's Crime
Director: Malcom Venville, USA, World Premiere
After serving three years in prison for a bank robbery he did not commit, an amiable but aimless man decides to rob the bank for real. His plan involves infiltrating a local theatre company, but his scheme gets complicated when he falls for the company's lead actress.
The Illusionist
Director: Sylvain Chomet, UK, North American Premiere
From the director of "The Triplets Of Belleville" comes a film of grace and unique beauty. Working from a never-produced script written by Jacques Tati for his daughter, Chomet tells the story of a magician pushed aside by rock and roll who finds one young girl who appreciates his magic.
In a Better World
Director: Susanne Bier, Denmark/Sweden, International Premiere
A powerful drama about responsibility, manhood and violence from one of Europe's most daring filmmakers, the Oscar nominated Susanne Bier.
I Saw The Devil
Director: Kim Jee-woon, South Korea, North American Premiere
A hard-boiled thriller from Korean master Kim Jee-woon, "I Saw the Devil" is a tale of bloody vengeance against a dangerous psychopath who has committed a gruesome series of murders.
It's Kind of a Funny Story
Directors: Ryan Fleck & Anna Boden, USA, World Premiere
A teenager's week in the adult psych ward brings new meaning to 'coming of age.'
Jack Goes Boating
Director: Philip Seymour Hoffman, USA, International Premiere
An unconventional romance about the working class of New York, this comedy follows two couples as they discover the meaning of commitment and love in the heart of the Big Apple.
L'Amour Fou
Director: Pierre Thoretton, France, World Premiere
Yves Saint Laurent built one of fashion's most celebrated empires. This moving documentary chronicles his rise, his lifelong partnership with Pierre Bergé and their decision to auction off a lifetime of precious art and objects.
The Legend of the Fist: The Return of Chen Zhen
Director: Andrew Lau, Hong Kong, North American Premiere
A brilliantly modern portrait of the celebrated Chen Zhen, "Legend of the Fist" pays homage to the cultural hero first brought to life by Bruce Lee in "Fist of Fury," who endures as a testament to Chinese strength and pride.
Lope
Director: Andrucha Waddington, Brazil/Spain, World Premiere
Andrucha Waddington brings famed Spanish playwright Lope de Vega's passionate life to the screen. The young poet returns to Madrid from war and gets his foot in the door of Madrid's most important theatre troupe – quickly charming his boss's daughter. His childhood friend, Isabel de Urbina, also falls under the spell of his poems. So much seduction eventually brings misfortune and he must flee Madrid.
Love Crime
Director: Alain Corneau, France, International Premiere
"Dangerous Liaisons" meets "Working Girl" in this deliciously caustic tale of office politics. Starring Kristin Scott-Thomas and Ludivine Sagnier as mentor and ingénue respectively, "Crime d'Amour" is a remorseless clash of two competing egos.
Made In Dagenham
Director: Nigel Cole, UK, World Premiere
Bob Hoskins and Miranda Richardson costar in Nigel Cole's triumphant return to the Festival. This seething dramatization of the 1968 strike at the Ford Dagenham car plant is fraught with the dynamics of labour politics.
Miral
Director: Julian Schnabel, UK/Israel/France, North American Premiere
A moving portrait of four Palestinian women since 1948, in the lyrical style Schnabel brought to "The Diving Bell and the Butterfly." Stars "The Visitor"'s Hiam Abbass and "Slumdog Millionaire"'s Freida Pinto.
Never Let Me Go
Director: Mark Romanek, United Kingdom, World Premiere
Ruth, Kathy and Tommy spend their childhood at a seemingly idyllic English boarding school. As they grow into young adults, they must come to terms with the strength of the love they feel for each other while preparing for the haunting reality that awaits them.
Norweigan Wood
Director: Tran Anh Hung, Japan, North American Premiere
Acclaimed director Tran Anh Hung assembles some of Asian cinema's finest talent in this captivating adaptation of Haruki Murakami's bestselling novel "Norwegian Wood," a passionate story of nostalgia, loss and sexual awakening.
Outside The Law
Director: Rachid Bouchareb, France/Algeria/Tunisia/Italy/Belgium, North American Premiere
Bouchareb's follow-up to "Days of Glory" is an epic French gangster movie in the tradition of "Once Upon a Time in America." The film follows three brothers from childhood in Algeria through turbulent years in Paris, as their paths diverge towards radical politics and violent crime.
Rabbit Hole
Director: John Cameron Mitchell, USA, World Premiere
A family navigates the deepest form of loss in John Cameron Mitchell's screen adaptation of the Pulitzer Prize winning play by David Lindsay-Abaire. Nicole Kidman and Aaron Eckhart deliver captivating performances as a husband and wife who fight to save their marriage in the life that begins again after tragedy.
A Screaming Man
Director: Mahamat-Saleh Haroun, France/Belgium/Chad, North American Premiere
Confirmed as one of Africa's preeminent film artists, Haroun returns to themes of family and loyalty in war-torn Chad. A father and son work together at the pool of five-star hotel, but the civil war forces life-and-death choices upon them.
Stone
Director: John Curran, USA, World Premiere
Robert De Niro and Edward Norton deliver powerful performances as a seasoned corrections official and a scheming inmate whose lives become dangerously intertwined. Stone weaves together the parallel journeys of two men grappling with dark impulses, as the line between lawman and lawbreaker becomes precariously thin. The film also stars Milla Jovovich and Frances Conroy.
Submarine
Director: Richard Ayoade, UK, World Premiere
A boy with embarrassing parents pursues his crush on a difficult girl. Sharp writing and an acute sense of teen love power this smart British romance from rising comic star Richard Ayoade.
That Girl In Yellow Boots
Director: Anurag Kashyap, India, North American Premiere
Ruth is searching for her father – a man she hardly knew but cannot forget. Desperation drives her to work without a permit, at a massage parlour, where she gives 'happy endings' to unfulfilled men. Torn between several schisms, Mumbai becomes the backdrop for Ruth's quest as she struggles to find her independence and space even as she is sucked deeper into the labyrinthine politics of the city's underbelly.
Tamara Drewe
Director: Stephen Frears, UK, North American Premiere
Based on Posy Simmonds' beloved graphic novel. When Tamara Drewe returns to the village of her youth, life for the locals is thrown upside down. Tamara – once an ugly duckling – has been transformed and is now a minor celebrity. As infatuations, jealousies, love affairs and career ambitions collide among the inhabitants of the neighbouring farmsteads, Tamara sets a contemporary comedy of manners into play.
The Trip
Director: Michael Winterbottom, United Kingdom, World Premiere
Follow two good friends in this hilarious road movie as they embark on a tour of the Lake District and the Yorkshire Dales of Northern England, eating, chatting and driving each other crazy.
Trust
Director: David Schwimmer, USA, World Premiere
David Schwimmer departs from his comedic roots in this harrowing drama that examines the build-up and aftermath of a teenager's (Liana Liberato) seduction by an online sexual predator. Clive Owen and Catherine Keener are perfectly cast as the grieving parents, but relative newcomer Liberato's slow-burning self-realization and climactic breakdown is undeniably heartrending.
You Will Meet a Tall Dark Stranger
Director: Woody Allen, USA/UK/Spain, North American Premiere
Woody Allen's latest comic ensemble piece follows a group of Londoners struggling with failing marriages, restless libidos, the perils of aging, and desires that drive a series of decisions with unforeseen consequences.
[ADDITIONAL PHOTOS: "THE TOWN," WARNER BROTHERS, 2010; "BLUE VALENTINE," THE WEINSTEIN COMPANY, 2010; "TAMARA DREWE," SONY PICTURES CLASSICS, 2010]