Why we've run out of first-name-only stars.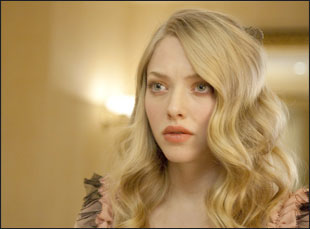 Posted by Vadim Rizov on
At The Wrap, Mali Perl suggests that the crop of upcoming stars doesn't seem to have anything on our long-established favorites: "George, Matt, Sandra, Angelina, Brad, Will," an array of first names that you don't need surnames to reflexively picture.
Perl doubts that in time the name "Amanda," say, will be automatically completed with "Seyfried." For this she blames… well, it's hard to tell. "It wasn't the times or the ginormous paychecks that made A-listers out of movie stars. A lot of it was luck, much of it was us but a significant part of it was them. And what's missing today is more of them."
I don't really know what that means, but I'll give it a crack anyway. As Andrew Johnson pointed out in the Independent this weekend, tentpole films are being headed by a surprising number of British actors — not just Mr. Robert Pattinson, but also the new Spider-Man, Andrew Garfield, and Jamie Bell, who's in the upcoming Spielberg "Tintin."
If you wanted to boost Perl's theory with some supporting evidence, it's hard to ignore the fact that there's apparently no American actor in his 20s with enough draw to play Spidey, so Sony's decided to bring in a total outsider and manufacture a star from scratch. This isn't part of that whole "the star is dead" argument people have been making for a while now; this is something slightly more compelling. Apparently we live in a climate that's domestically incapable of manufacturing totally new stars.
And I'm going to say: that's just fine.
Stardom isn't an ineffable characteristic — except insofar as charisma requires two players, one to produce it and one to be receptive to it. When audiences become more interested in, say, seeing pictures of how stars are "just like us," the game's over. Stardom requires an audience willing to concede some things are off limits.
Arguing about the dearth of first-name-only stars ignores some basic facts, the simplest of which is that the star machine worked best in the '30s, when studios could micro-manage their properties in a way that, in retrospect, were deeply frightening. This was a time when Louis G. Mayer could strap Judy Garland's chest to make sure she wasn't freaking out or arousing anyone. And this stuff worked. It's no coincidence that many stars who wouldn't really blow up til the '40s and '50s — Cary Grant, say, or even Humphrey Bogart — rose up through the ranks of that system.
There are two ways to manufacture a star: from the ground up, or via the natural entropy driven by people who can manage and manufacture their own images cleverly without having the media puncture their mystique early on. Take away both of those factors, and you've got a series of flash-in-the-pans regardless of talent levels, with the celebrity cycle sped up for the instant-update age.
In other words: it's not them. It's us (or maybe just Us Weekly).
[Photos: "Chloe," Sony Pictures Classics, 2010; "The Wizard of Oz," Warner Home Video, 1939]