Fantastic Fest Presses the Start Button for Their All-New Indie Game Gala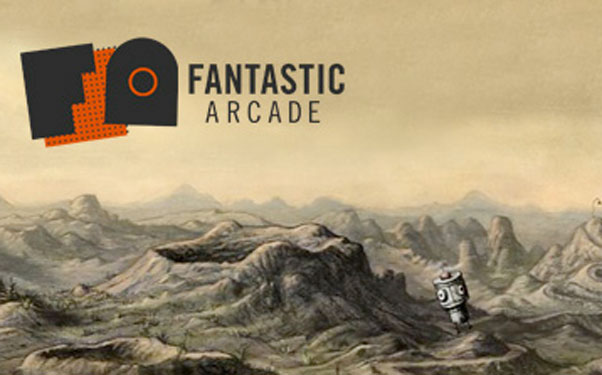 Posted by Evan Narcisse on
Film buffs know where to go if they want to watch a flick decked out as a zombie, see the premiere of a future cult classic like "Gentlemen Broncos" or hear directors such as Paul Thomas Anderson talk about their love of celluloid. That place is Fantastic Fest, which bills itself as "the largest genre film festival in the United States."
Taking place in Austin for the last five years, the festival was founded by film-loving locals Tim League, Harry Knowles, Paul Alvarado Dykstra and Tim McCanlies. It quickly became an annual celebration of films sharp enough to draw blood, gasps or laughs (or even a mix of those responses) that brings thousands of people to Austin for a collective freak-out.
This year sees the addition of Fantastic Arcade, a schedule of events from September 23-26 that celebrate the collision of indie film and indie games. The neophyte Arcade curates blocks of programming that brings together films based on the video game phenomenon and indie game developers. '80s video game movies like "The Last Starfighter" and "Nightmares" will be screening at the beloved Alamo Drafthouse's South Lamar location and the nearby Highball will be transformed into an old-school arcade with stand-up machines.
Also on tap will be a machinima film competition judged by Burnie Burns of "Red vs. Blue" fame, panels by renowned indie designers and a chiptune concert powered by Game Boys and other retro gaming devices.
It's going to be an intense four days — I spoke to Fantastic Arcade organizers Mike Plante and Tim League to find out the inspirations and aspirations for the inaugural fun fest.
Fantastic Fest has long been a well-established film festival focused on genre cinema. Why did you guys feel that now was the time to add on a video game component to FF?
Mike Plante: At the same time I wanted to do a game festival in the way I've been working with film festivals, Tim was trying to find a way to incorporate games into Fantastic Fest — it's a natural extension for the FF audience, and Austin is a bit of an indie-gaming hub, much like it is an indie filmmaking hub. Like freeway overpasses, we came together.
What were the indie games that lit the fire that sparked Fantastic Arcade?
MP: I saw Eddo Stern's work at the New York Underground fest and at Cinematexas, real interactive games that were fun to play but gave you a deeper experience you remembered. Eddo is now a co-curator for the Arcade with us. Then I encountered Maya Churi's Forest Grove, which we had as part of Sundance 2005 (I'm an Associate Programmer there). A game that felt like an independent movie with lots of thought in the story, design and game play. Of course I've been playing all kinds of games over the years (born in 1970) but these felt like individuals making a game instead of a company only interested in money.
There'll be art installations by Cory Arcangel and chiptune performances during Fantastic Arcade. Do you think the level of technical skill required to bring game influences into other mediums is a barrier?
MP:You can learn tech equipment, or collaborate with smart technicians. Lots of filmmakers talk about what camera they used as a selling point. I could not care less. Making a plot and characters and using style is what counts. Even if it is incredibly minimal — that's a choice that can be done in an interesting way.
It's the same with games and crossing over mediums, the real skill is doing it with your own voice infused and making it entertaining, and at times even thoughtful. We like what Cory and Chiptunes and others are doing in those ways. When I first saw Cory's "Super Mario Clouds" I was taken in by the work — what it was doing and how that made me feel. It was an added layer to see the hacked Nintendo duct taped on the floor.
Austin's one of the American gaming scenes strongest development hubs. What's the response been from local developers about having the first Fantastic Arcade there?
MP: So far, it's been great. The opportunity to showcase Austin to the game world and the chance to see indie games and their developers in the same room is promising. We hope to have many locals on panels as well.
Making games is collaborative, even for smaller dev outfits. Do you think it's possible to get the singularity of vision of directors like Roger Corman or Sam Raimi? What game designers do you think achieve auteur status?
MP: Mark Essen and Cactus are great — each a crazy one-man band turning out fun lo-fi games every month it seems, each one stylish and smart. Jakub Dvorský's "Samorost" and "Machinarium" are perfect for us too — a rad fantasy narrative with beautiful art, like if Terry Gilliam or Jan Svankmajer made a game. Paolo Pedercini (Molle Industria) has a string of great political work, taking oil, priests and McDonald's and making games with biting satire. Ask a big film studio to turn one of those into a $100 million film.
Although Corman might.
Can you talk a bit about how you chose the machinima films that'll be shown during the festival?
Tim League: Jack Patillo from Rooster Teeth ("Red Vs. Blue") — an Austin company, by the way — was a big part of that. Rooster Teeth have been hugely influential in the machinima scene and have their finger on the pulse of all manner of cool stuff in this space. If there is an authority on finding "the goods," Jack is it.
What inspired the idea to have attendee-created machinima movies as part of the event schedule? Will there be any kind of coaching going on for folks who might be doing this for the first time?
TL: We've sponsored filmmaking contests as part of Fantastic Fest since year one. Each year we have a slightly different theme. With the advent of Fantastic Arcade, we thought it would be appropriate to introduce machinima as the format this year. We won't have any coaching prior to the contest, but during the event itself, we'll have experts from "Red Vs. Blue" and "The Spartan Life" explaining their process and actually crafting a machinima film live during the panel sessions.
The Rooster Teeth guys are probably the most well-known pioneers of machinima. How'd you get them to participate in such a big way?
TL: Henri Mazza, the Alamo's creative director, actually used to get his ass kicked routinely in "Halo" online games by Burnie Burns and his crew, before they were doing "Red Vs. Blue." We've had a long relationship with them over the years. They have premiered episodes at the Alamo and have even produced "Red Vs. Blue" "don't talk" PSAs for the theater.
Looking over the films that will be shown during the festival, it's pretty striking how there's been a shift away from movies like the "Last Starfighter" and "Nightmares" that focused on the players. Now, most video game movies — except "The King of Kong" — focus on the in-game characters. What do you think the change in focus represents?
MP: I'm completely guessing here, it would take a bigger analysis of all the filmmakers and writers and studios to find out the nitty-gritty. But I think there is simply a different generation making the movies now. You definitely didn't have kids making the big studio films in the '70s and '80s, their parents (and grandparents) were making them. Now you have filmmakers that grew up with games. It's just different concerns and viewpoints. Not that one is better than the other, some older movies are good and some new ones are one-minute ideas stretched into two hours. Isn't someone making the "Leisure Suit Larry" movie by now? It's too late to cast Elisha Cook, Jr, unfortunately.
Film and video games are both visual mediums, but film-watching's a communal pursuit while game-playing is a solitary one. As guys who've been curating a fringe film festival, what do you think enthusiasts of each medium can learn from each other?
TL: The experience is something I work with a lot in fests. Sometimes a comedy only works with a huge crowd, and sometimes you show a "difficult" themed movie knowing only 20 people would dare show up. That's fine. Some games need two to four players to really work, which is a big thing to consider before putting it in an arcade. And some games will not be popular, for their gameplay or their themes. But, that's ok; people can still have an experience of a certain kind with them.
On the overlap between creators, each medium can learn from the other on dealing with its characters, pacing, how much time someone looks at a specific image, the underlying soundwork, for instance. Do you want your audience to go away frustrated or satisfied? Do you want your audience to think for themselves? That's a big issue with both mediums and you can learn from what each choose to do.
Just as important as the creators, the audience for one will be surprised by the other. If you liked "Antichrist," you will find games here just as challenging and technically vibrant.
(On that note, when is "Antichrist – The Game" coming out?? That's another goal, getting industries to work together, it could be great. "Induction: The Game" is obvious and probably a lot of fun, but I would play any game made from a Bela Tarr film. Actually, [dev studio] Tale of Tales is on that tip. Also, "Wendy and Lucy: The Game." Isn't there a "Tetsuo: Iron Man" game by now? Japan is always so far ahead of us.)
The Fantastic Arcade, part of Fantastic Fest, will take place in Austin, TX from September 23-26.