Fitting into a box, lessons to be learned from faith-based films.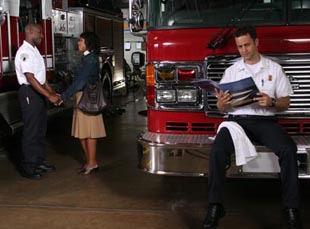 Posted by Vadim Rizov on
In an interview with genre cult figure Philip Ridley at Twitch comes the following disclosure: "The kind of films I've been interested in making are not very easy to get off the ground. They don't fit into a neat box or category."
It's a variation of a common lament of filmmakers who have trouble working as fast as they'd like is, to filmmaking as "I'm not here to make friends" is to reality TV.
What, then, can we make of Sherwood Baptist Church, the highly successful organization whose ministry is responsible for the Kirk Cameron-starring Christian redemption tale "Fireproof" (technically the highest-grossing independent film of 2008) and who keep making low-cost films with evangelical messages? If you want to talk about a neat box, this is the way to go about it.
Michael Catt — senior pastor, supervisor of Christian film — is unabashed about this and has some very smart reasons for it. "Every movie has an agenda," he says, and points out "Avatar" as a recent example. "Clearly, [James Cameron] had a spiritual agenda there, and he's out to reach his audience. So are we. We have lost this culture, and we have to fight back. Our way is to show the living Gospel in a secular environment." Game on.
There's something about the unapologetic nature of Sherwood's ambitions that can make you root for him, even if evangelizing on behalf of the gospel isn't on your list of priorities. Catt's calling "Avatar" secular proselytizing — and, well, it is. "Avatar" is just as didactic as most faith-based filmmaking — it's just got more gewgaws and blue hues to layer on top to disguise it. And if you're looking for a way to explain why low-budget Christian films with minimal production values can turn a profit, you could consider that.
When the Sherwood members say things like "Remember, John Wayne only died in two movies," they're advancing an argument that's as much narrative as it is spiritual. They're saying people appreciate clarity, the more of it the better — and that, contrary to what many critics would say, people like to be talked down to.
They like to be lectured, because clarity is at a premium in a world whose ambiguities are overparsed more and more each day. This is not an argument I'm terribly sympathetic too — but it's an argument nonetheless, one that says Ridley is right to have financing troubles. Not because producers are selfish, but because audiences like boxes, and they're who financially support movies.
Anyway, here's the Sherwood church hard at work — for all their self-righteous rhetoric, they aren't kidding. This is as community-based as filmmaking gets:
[Photos: "Fireproof," Sony Pictures Home Entertainment, 2008; "Avatar," 20th Century Fox, 2009.]