Disc Covering: "Eyeborgs" which, to meye surprise, is not bad.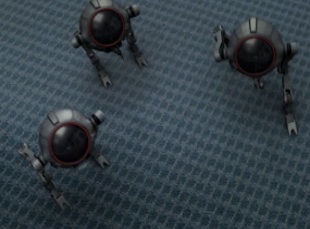 Posted by Matt Singer on
I've been on the DTV beat for a couple months now. Patterns are starting to emerge. For example, every direct-to-DVD movie about police officers or FBI agents is apparently obligated to feature an obnoxious female reporter. The Obnoxious Female Reporter appears in many forms but always follows certain rules:
1) Her first line in every movie is: "Officer [[NAME OF COP]]! Officer [[NAME OF COP]]! [[NAME OF OBNOXIOUS FEMALE REPORTER]], Channel [[FAKE TV STATION]] News!"
2) Obnoxious Female Reporter never sets up a shot or asks for an interview. She just runs around, screaming at people and shoving a microphone in people's faces.
3) Obnoxious Female Reporter lives in a perpetual state of outrage. She has no patience and no tact. Her picture should go in the dictionary next to the word "indignant."
4) Obnoxious Female Reporter always acts like she's about to break the biggest news story since Watergate. But…
4) …no matter how outrageous her suspicions, Obnoxious Female Reporter is always right about them.
Take, for instance, "Eyeborgs," a film about a Department of Homeland Security Officer (Adrian Paul) investigating a strange series of murders involving a government of the near future's Eyeborgs surveillance program. As DTV sci-fi action thrillers go, "Eyeborgs" isn't bad. It's got a clever premise, a decent storyline, and some surprisingly credible special effects. But even something as well-made as "Eyeborgs" couldn't resist throwing in an Obnoxious Female Reporter. Her name is Barbara Hawkins (Megan Blake) and she's the only person who realizes the Eyeborgs' evil plan. But will anyone believe her in time to stop them? And will anyone put up with her pushy behavior long enough to listen to her in order to believe her in time to stop them? Stay tuned…
"Eyeborgs"
Directed by Richard Clabaugh
Tagline: Nowhere to run. Nowhere to hide.
Tweetable Plot Synopsis: TV's Highlander versus evil right-wing surveillance robots.
Salable Elements: Character actor extraordinaire Danny Trejo in an important supporting role; a muscular lead performance from Adrian Paul, who must have some kind of a fanbase if his "Highlander" television series lasted six seasons in syndication; a title so goofy that a certain type of person (like, say, the type of person that has a column about direct-to-DVD movies) feels compelled to find out how bad it is.
Biggest Success: Here's the thing about that title, though. While it is technically accurate — the movie features little robots named Eyeborgs, and plenty of 'em — it's also misleading. Such a stupid name suggests a stupid movie and, for the most part, "Eyeborgs" is not a stupid movie. It's a solidly pleasurable taste of cautionary sci-fi. And like most good cautionary sci-fi, it's set in a recognizable world twisted into an impossible extreme to make a salient point about the dangers of modern technology.
The target, in this case, is the proliferation and sophistication of contemporary surveillance equipment. In the "Eyeborgs" universe, a deadly terrorist attack has spurred the U.S. government to pass a bill with the chillingly plausible title: "The Freedom of Observation Act." It authorizes the Department of Homeland Security to put these little robotic cameras all over the country, who watch citizens' every move in the interest of national security.
As quickly becomes clear, these Eyeborgs don't just record crimes, they commit them as well and use their advanced computer technology to doctor the video they've recorded. And since people have have a tendency to believe whatever they see on video, nobody suspects the Eyeborgs until it's almost too late to stop them. While the conspiracy that unfolds in front of Paul's Agent "Gunner" Reynolds (heh) and Obnoxious Female Reporter Hawkins eventually becomes a bit too outlandish, the core idea is a perfect one for science-fiction paranoia.
Biggest Failure: The premise may be smart, but too often the characters are not. Imagine for a moment you are a highly trained field agent for the Department of Homeland Security. You work every day with these Eyeborgs. You know what they can do and how they work, and you know that they are everywhere.
Now imagine you are beginning to suspect there is a massive conspiracy brewing involving Eyeborgs. So would you hold extremely important meetings involving sensitive material in well-lit public squares in the middle of the day where dozens of these little critters can watch and record your every word? 'Cause that's exactly what Paul's character does. I know his nickname is Gunner, not Thinker, but c'mon. That's just plain dumb.
Though it's a bit nitpicky given the film's obviously limited budget, it's hard not to notice that "Eyeborgs" is set in a world where these incredibly advanced robotics and video capture systems exist, yet everything except the Eyeborgs looks exactly as it does in our world in 2010: boring old cars and cell phones and guns. How'd they wind up with super-futuristic killer robots and not super-futuristic anything else?
Best Moment: You may not approve of their anti-human agenda, but give the Eyeborgs credit: these cats are smooth criminals. They don't just kill people, they do it in style, as when they make the murder of one of their enemies look like a drunk driving accident.
While this guy with video evidence of the Eyeborgs' shenanigans is on his way to give the footage to Obnoxious Female Reporter, they sneak into his van, open the dude's mouth and pour whiskey down his throat. Now since the Eyeborgs are crime scene investigation units as well as surveillance robots, this is a totally superfluous gesture. They could just alter any blood samples after the fact to make them look full of booze. So basically they just felt like fucking with this guy who was pissing them off.
They manage to get him to crash the vehicle, but they don't kill him. One of the Eyeborgs grows a blowtorch and lights a trail of gasoline to the van, but its target escapes just in time. Thinking himself victorious, he looks at one of the 'borgs' dismembered limbs and screams "You have been DISARMED, baby!" Ah, but he's spoken too soon, as the still-functioning robot leaps forth from the flaming wreckage and roasts the cocky sonofabitch with a flamethrower. Remember kids: sometimes the direct method is the best.
Special Features: The "Eyeborgs" disc includes a trio of ten-minute making-of featurettes. None of them are particularly revealing and all of them are fairly self-congratulatory, but they do shed light on the fact that this entire production was made in North Carolina, mostly by local talent and craftsmen, including director Clabaugh, a Carolina native, former North Carolina School of the Arts instructor and Hollywood cinematographer on stuff like "The Prophecy" and "Phantoms."
Clabaugh says he specifically wrote to the strength of his effects team with mechanical objects, and it shows; the computer-generated Eyeborgs look like effects from a movie with a budget 50 times larger than his own. On a purely technical level, the work — particularly by cinematographer Kenneth Wilson II and the visual effects team led by Christopher Howell Watson — is just as good if not better than comparable Los Angeles-based low-budget fare. Clabaugh's resourcefulness and creativity in every aspect of production suggests his team could have a long future ahead of them in the DTV business.
Worthy of a Theatrical Release? Almost. But this film is better suited to the scope and size of the small screen anyway, where it plays really well. A decent script with some good ideas, supported by good action and special effects? Obnoxious Female Reporter or no, that's a pretty unusual combination in this straight-to-video world.
For Further Viewing: Check out this hilariously incomprehensible five minute condensation of Adrian Paul's last "Highlander" movie, 2007's "The Source," which was so wonky it went straight-to-TV (not even straight-to-DVD!).