Expandable Actors on "The Expendables" Poster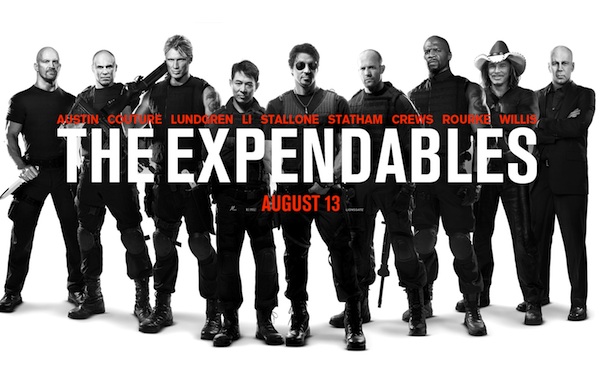 Posted by Matt Singer on
We're about three weeks from the release of "The Expendables," Sylvester Stallone's ode to '80s action movies and anti-aging supplements. Posters are starting to pop up around New York City. I spotted one on my commute into Manhattan yesterday; it's embedded there at the top of the post. Anything strike you about it?
Look carefully and marvel at the magic of Photoshop. Here's a closer angle on Stallone and Dolph Lundgren.
Eyeballing it, I'd say Lundgren's maybe three inches taller than Stallone in this image. But back when these two guys squared off in "Rocky IV" Dolph towered over Sly. Like a game of hoops between Manute Bol and Muggsy Bogues towered. Remember?
Granted we have no idea how many apple boxes Lundgren's standing on in that shot, but back in 1985, Stallone only came up to Ivan Drago's nose. 20 years later he's caught a growth spurt — sort of unusual for a 64-year-old — and shot up four inches? Something smells fishy. To test my suspicions, I had IFC.com assistant editor Stephen Saito put together an "Expendables" chart putting them in actual size order with the actor's listed heights. Here it is:
As you can see, the physical relationships between these actors have been fudged for the sake of composition and, who knows, maybe for the sake of ego, too. Stallone benefits the most. We've got him at 5'9″, while IMDb lists him at 5'9″ and a half. Either way he's the second shortest member of the cast, but he's the third tallest guy in the picture behind Lundgren and Crews (Rourke edges him out too, but he's wearing a big cowboy hat, so he doesn't count). Poster Stallone is taller than poster Statham, Rourke, Willis, Couture, and even the 6'2″ Austin. So remember, gang: when you direct yourself in a movie, you can make yourself look as tall as you want.
[Additional Photo: "Rocky IV," MGM, 1985]