Exclusive Video Premiere & Interview: JP, Chrissie & The Fairground Boys "If You Let Me"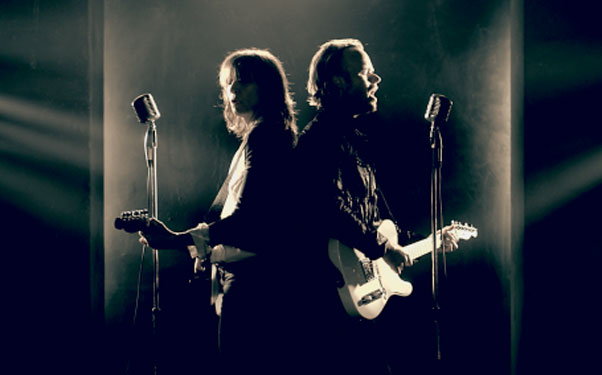 Posted by Brandon Kim on
The tale of JP, Chrissie & the Fairground Boys begins in familiar territory. A guy, a girl, a few drinks, lots of texting. But from there it departs into the stuff that only rock and roll legends are made of. Fifty-eight year old Chrissie Hynde, of The Pretenders, met Welsh musician JP Jones at a bar in London and the joy in the chemistry they found was only dampened by the realization that the 30 some year age difference (he's in his 20's) denied them the chance to start a family together.
Deep into middle age, she may be too old to start a family, but Chrissie is not a girl to be trifled with. In fact, she's probably more bad ass then ever, easily launching into scathing X-rated rants about our depraved popular culture with a voracity usually reserved for the young and rebellious. JP on the other hand, struck me as the calming influence in this pair. The three of us talked about how they became each others muse, and this new video "If You Let Me," directed by Chris Marrs Piliero, from their album "Fidelity." It was heavily inspired by the film "Let the Right One In," but as you'll see, that's not the only thing you can read into it. Check out the premiere, then read the full interview below.
So, I read you two met in a bar, started texting and then hooked up to make this album. It might sound like a pretty average, modern, rock story if not for the fact that one of you is Chrissie Hynde!
CH: It's actually quite unusual really.
JP: Yeah we met in a bar and swapped numbers. Chrissie went on tour the next day and we texted each other a lot. When she finished [the tour] she said, "Want to go to Cuba?" and I said yeah.
And you wrote the album in Cuba. Why Cuba?
JP: We just went on a whim. I took a guitar, I take one everywhere, we didn't even talk or think about writing an album. We just ended up being there, and we realized how we felt about each other, but this age gap between us — we can't be together and start a family. So we just kind of wrote songs to each other in the hotel suite in Havana about it, and crying.
That's one of the hardest hitting stories about how an album was created that I've heard.
JP: None of this was planned. People keep calling it this new project, but it was never a project it just happened, and it happened so quick.
CH: We really didn't know that we would, you know, get along so well and realize that our relationship had to be confined to being in a band together and it couldn't really be anything else. We had to take it on the chin and that's what came out of it, this album.
What was the music like in Havana, what did you listen to?
CH: There's a lot of music there it's like Brazil, everyone makes music. I don't know if there was a direct influence.
JP: Yeah we didn't really leave the hotel, but there was always a band playing.
CH: Well it's a big hotel, there are grounds around it and birds walking around and restaurants, so we didn't really leave, we were, you know…
JP: Walking around. [laughter]