Exclusive: The Whigs perform "I am for Real."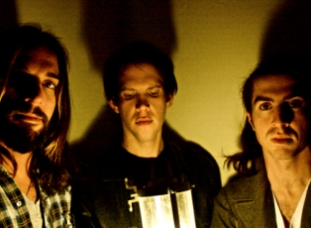 Posted by Brandon Kim on
Athens, GA trio The Whigs are on tour with The Hold Steady right now and apparently blew people away at a concert over the weekend in Dallas. Bassist Tim Deaux, who just joined The Whigs before the release of there last album, had a death in the family and had to bail. So, after explaining the tragedy, singer/guitarist Parker Gispert played a few songs alone including a cover of "Painbirds" by the late Sparklehorse, then drummer Julian Dorio came out with The Hold Steady's manager on bass guitar and they ripped through an impromptu set.
[The Whigs. Photo by Jordan Noel.]
You gotta love shows like that. I guess the manager had played with The Whigs sometime before he took the cushy job so it's not as wild as it sounds. Check out the raw power of The Whigs rhythm section, showcased heavily on the latest record In The Dark, in this performance from the IFC Crossroads House. Full time bassist, Tim Deaux included.
Show details from the Dallas Observer.