Exclusive: The Walkmen perform "While I shovel the Snow."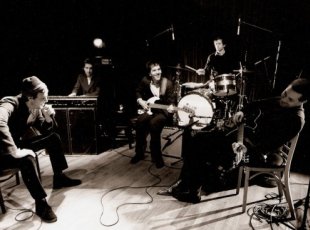 Posted by Brandon Kim on
I probably saw The Walkmen perform live 15 times at various venues for various reasons from their stunning debut in 2002 through 2004 or so when they were touring for their second album. I can still hear "They're Winning" in my head when I turn on the news. At every single one of those shows there came a moment when I was sure Hamilton Leithauser's vocal chords were going to explode from his throat and take my face off. There was this warehouse show at SXSW in particular where I was sweating with concern and somewhat at fault, but I digress.
Point is, he truly poured himself into a performance like few others, the whole band did. Did you ever see that half-ton ancient piano they lugged around with them? That thing left screws and a dent in the floor everywhere it went. They've been working on a new album now called Lisbon and though the tracks I've heard are mellow, I can still feel all that intensity beneath. It's swaying in the horns on "Stranded" and bottled up tight in "Blue As Your Blood." Here they are performing "While I shovel the Snow" at SXSW.
Stream The Walkmen on NPR.
Listen to "Blue As Your Blood" on Stereogum today.