We are so incredibly Emmy-nominated right now.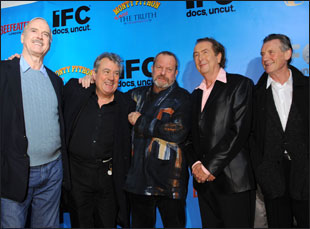 Posted by IFC on
We are very proud to announce that IFC received two Emmy Award nominations this morning for our six-part documentary series "Monty Python: Almost the Truth (The Lawyer's Cut)."
The show is up for Outstanding Nonfiction Series, and directors Bill Jones and Ben Timlett have been nominated for Outstanding Directing for Nonfiction Programming.
We produced "Monty Python: Almost the Truth (The Lawyer's Cut)" to commemorate the 40th anniversary of the premiere of Monty Python's groundbreaking television show on the BBC on October 5, 1969.
The docu-series kicked off on IFC on October 18, 2009 and featured all-new interviews and candid commentary from Python creators John Cleese, Terry Gilliam, Eric Idle, Terry Jones and Michael Palin, archival footage and interviews with the late Graham Chapman, and celebrity fans, including Jimmy Fallon, Eddie Izzard, Lorne Michaels and Dan Ackroyd.
"Monty Python's Flying Circus" never received an Emmy nomination, and so we're particularly proud to be able to share this honor with the Pythons and their many, many fans.
Here's a clip from "Monty Python: Almost the Truth (The Lawyer's Cut)":