Edward Norton's Hulking absence will be felt in "The Avengers."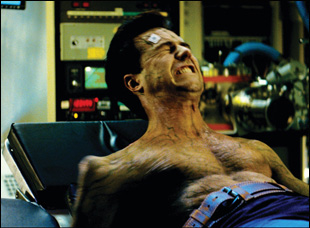 Posted by Stephen Saito on
It doesn't exactly come as a shock that Edward Norton won't be Hulking out in "The Avengers," given his famous disagreements with Marvel over the final cut of 2008's "The Incredible Hulk" (in which he backed the film's director), due to which he declined to do press for the film. If there was any surprise at all, it was that Norton apparently was open to returning to the role.
Unfortunately, Marvel's move to replace Norton, which was exhaustively reported by HitFix's Drew McWeeny over the weekend, further cements his reputation as a difficult collaborator rather than the brilliant actor who lit up screens in "Fight Club" and "The 25th Hour." And that is a shame.
Perhaps emboldened by Cleveland Cavaliers owner Dan Gilbert's recent incendiary send-off letter to Miami-bound LeBron James, Marvel's Kevin Feige broke free of the usual platitudes when dismissing Norton in his bridge-burning statement: "Our decision is definitely not one based on monetary factors, but instead rooted in the need for an actor who embodies the creativity and collaborative spirit of our other talented cast members."
The strange thing is I can't think of too many actors more creative or collaborative than Norton, who displayed such skills when he was brought on board "The Incredible Hulk" not only to star, but rewrite the script and "function as an uncredited producer," according to an Entertainment Weekly report at the time.
No disrespect to Robert Downey Jr., Chris Hemsworth, Chris Evans and all of the talented ensemble who will be a part of Joss Whedon's superhero extravaganza in 2012, but none of them have been asked to handle the same workload, though Downey and "Iron Man" director Jon Favreau improv-ed their way to a hit. And if you'll notice, Marvel's films haven't seemed as fresh since that success.
But what's really troubling is Norton once again being tarred as some power-driven egotist when clearly that's not who he is. Not the guy who rewrote "Frida" for then-girlfriend Salma Hayek for no money or credit when the film went over budget or sweating out two weeks in Morocco, unrecognizable under a mask just so he could work with Ridley Scott on "Kingdom of Heaven."
I wouldn't claim to know him well after spending a few minutes with him at last year's Toronto Film Festival, but what I did gather from how willing he was to promote "Leaves of Grass" was his desire to be the consummate team player — someone who was involved in every aspect of the creative process because he genuinely cared about its outcome and supported his fellow cast and crew.
I regretted using some of my time with him to ask about his reputation since Norton's unique kind of passion and intelligence is wasted on defending himself, but he nonetheless took the time to explain in the same sensible, reasoned, meticulous manner I imagine he discusses most matters, whether he's being interviewed or not.
Norton wasn't being defensive, but direct when he said, "I don't think people outside the process really genuinely have very much understanding of the process," before going on to say:
The difference is I think the people who actually understand the process and are confident in their own contributions to it ultimately are the ones who walk out of that and say that's what it takes to make it good. And these people went through it with me, so now we're a team. The ones I find who are the most insecure and generally have the least, what I would call real rigor or thought are the ones who get the most defensive about that.
While Norton was only speaking generally, he was referring to a type of commitment that Marvel simply isn't capable of, if you are to judge them by their actions here, which is ironic considering all that has gone into making a project as ambitious as "The Avengers" into a reality.
If Marvel wants to recast the Hulk, fine — it's been done before and it's their film, but at least do it for the right reasons. Fans of Norton can take solace in the fact that maybe we can finally get his adaptation of Jonathan Lethem's "Motherless Brooklyn," Marvel can get Joaquin Phoenix to play Bruce Banner, and everyone will get what they deserve. All I know for sure is Norton himself deserves better.
[Photos: "The Incredible Hulk," Universal/Marvel, 2008; "Kingdom of Heaven," 20th Century Fox, 2005]