The Doc Days of Summer: "Winnebago Man"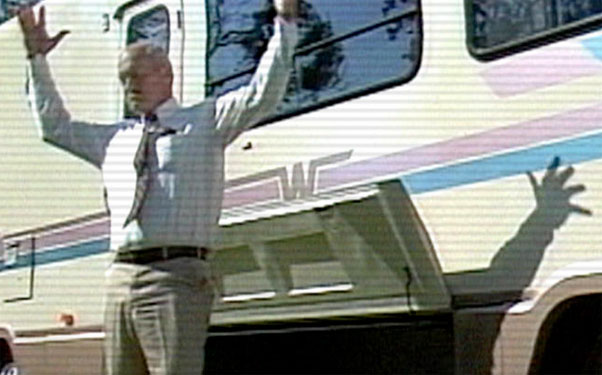 Posted by Stephen Saito on
One could say the viral campaign for the blisteringly funny new doc "Winnebago Man" preceded even the Internet when the profane outtakes of RV salesman Jack Rebney leaked out from the production of an industrial video during the '80s (you can see it here, millions of others have) and made their way out into the world on fuzzy VHS copies and eventually YouTube.
Soon, Rebney would be anointed the "world's angriest man" by the legions that discovered the video, including celebrity fans like Conan O'Brien and director Mike Mitchell (who would have Ben Affleck recite Rebney's most famous line, "would you do me a kindness" in "Surviving Christmas").
However, it would be one of Rebney's less famous admirers who would set out to discover that if the former Winnebago salesman is angry about anything these days, it's Dick Cheney, and while he remains quite the character, he's an emotionally fragile man of letters that is far more than the five minutes' worth of f-bombs and frustration the world at large knows him for.
Ben Steinbauer suspected as much might be true from the couch of the Austin apartment he shared with fellow documentarian Bradley Beesley. He wondered whether Rebney had even seen the tape, as he and his roomie would eagerly pop in their copy for anybody who stopped by and hadn't seen it before.
When Steinbauer, who moonlights as a lecturer at the University of Texas, decided in 2005 to seek Rebney out, he'd get "a lot of sort of dazed looks and pats on the head" from friends who were used to quoting the "Winnebago Man," but hadn't thought much more about him and yet it turned into an experience that Steinbauer now says, "reconfigured my understanding of the documentarian/documentary subject relationship."
Since part of the film's great fun is in discovering exactly why that is, I won't detail it here, but Steinbauer does find Rebney in the woods of Northern California and one of the great cinematic pairings of recent memory is born between the private 80-year-old and the 30-ish filmmaker who tries his damnedest to get him to open up.
"The fact that Jack was not only uncomfortable with [appearing on camera] but actively withholding from me as somebody that was making a documentary about him was something that I had just never considered," said Steinbauer. "I kind of took for granted that somebody — with reality TV and [social media] — wouldn't just want to tell the personal details of their life."
There was a Plan B if Rebney didn't respond to Steinbauer's entreaties, a tenuous process which is depicted in all its nerveracking glory in the film, that involved seeking out other Internet-era celebrities in what would've been in Steinbauer's words, "a 'Fast, Cheap, and Out of Control' treatment where I was going to find three or four of these stories and crosscut them together to paint this overall portrait of this new type of technological infamy."
Ultimately, it wasn't necessary to go that route, though Steinbauer still interviewed noted fabulist Aleksey Vayner (who made the final cut) and the unlucky Lee Paige, the DEA agent who literally shot himself in the foot during a school presentation on weapons safety (and did not). But the filmmaker realized there was something different about Rebney.
"If they weren't like comfortable with the technology, they were at least aware of it," Steinbauer said of the other YouTube stars he talked to. "It wasn't as big a jump as it was for Jack as an 80-year-old man who had been in media in the '50s and '60s when they still shot on 16mm film. They didn't even have video, so the idea of outtakes to him were kind of outrageous, like that didn't really exist, let alone the idea that people in Japan would be watching these 20 years later, [which] was just like some sort of Orwellian dystopia for him."