Do We Really Need a "Total Recall" Remake?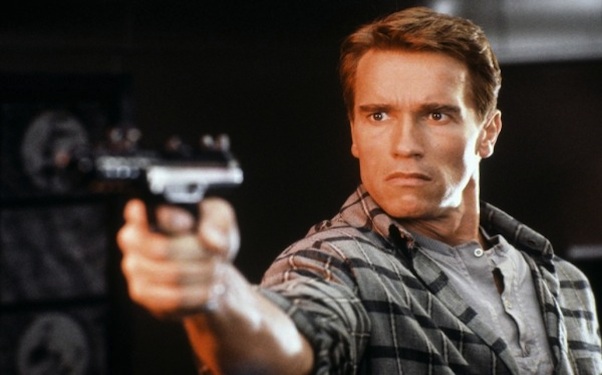 Posted by Matt Singer on
NOTE: I am about to spoil "Inception." And "Total Recall," for that matter. If you don't like it, tough noogies.
Just yesterday I was thinking some more about "Inception" and the continuing debate about its ultimate meaning. Is Cobb dreaming at the end of the film? Is the whole film a dream? Though I had my own theory while watching the film, the strength of the arguments on all sides suggests Nolan crafted the film in such a way so that more than one reading of it is valid. Which started my mind working on a comparison with another sci-fi film that's also open to conflicting interpretations: 1990's "Total Recall." Like "Inception," it's about a man chased around the world (or worlds) by vague but deadly forces that include his formerly loving and now vindictive wife. Like "Inception," "Total Recall"'s hero is a morally ambiguous man on a mission that involves layers of deception. Like "Inception," its protagonist is forced to contemplate whether the world around him is real or a projection of his damaged psyche. And like "Inception," "Total Recall" was designed to work equally well on a variety of levels. At first glance, it's a straightforward adventure about a reluctant secret agent. On repeat viewings, it becomes clear that the entire film could also be taking place inside the mind of a man who orders a memory implant for an adventure about a reluctant secret agent.
"Recall" director Paul Verhoeven conceptualized the film so two viewers could have two totally different but equally accurate experiences. When Arnold Schwarzenegger's Douglas Quaid prepares to receive his memory implant, a television screen flashes an image of the alien machine he'll be called upon to start at the end of the film. That could be a coincidence, or some very accurate memory implants, or we're being tipped off that the narrative we're about to enter into is not to be trusted. To me, that's what makes "Total Recall" such a satisfying film: every new viewing invites the audience to continually ponder the reality of the story, and it rewards close reading with loads of clues and easter eggs.
Given the similarities between the two films and "Inception"'s strong box office showing so far ($246 million worldwide and counting), it shouldn't be a surprise that studios looking for properties that can hit the same smart-but-not-too-smart vibe would come upon the idea of a "Total Recall" remake. The Los Angeles Times' Steven Zeitchik (in a post that spots the same similarities between the films that I'd been mulling over) announces that Sony has acquired the rights to remake the film and hired "Underworld" and "Live Free or Die Hard" filmmaker Len Wiseman to direct.
Zeitchik's piece calls the project a "reboot" but that seems like an incorrect use of terminology to me. A "reboot" implies you're taking a well-established and heavily utilized property and restarting it back at square one. The upcoming Marc Webb "Spider-Man" movie is a reboot; J.J. Abrams' "Star Trek" was a reboot. The idea is you're erasing and negating a large amount of narrative continuity. And since there was only one "Total Recall" film (the short-lived "Recall" TV series was largely unrelated), it's got to be a remake, which is a reboot on a much smaller scale.
Whatever you want to call it, do we really need it? Obviously, no; we don't technically "need" any movie. But that doesn't mean there can't be some value in a remake, just as there can be value in a new Shakespeare production (and by all means, let's compare the work of Paul Verhoeven to that of Shakespeare. "Basic Instinct" is his "Romeo and Juliet").
With any older science-fiction film, there's always the possibility that its future technology can star to show its age. At 20 years old, "Total Recall" definitely does at times — the robotic "Johnny Cab" that chauffeurs Schwarzenegger around Earth is a dubious animatronic and some of the Martian vistas are definitely hokey. On the other hand, plenty of other stuff holds up: the prescient wall-mounted flatscreen in the Quaid kitchen; the X-Ray security scanner, Cuato and the mutants, and even the elaborate puppets that stand-in for Arnold during the depressurization sequences on the airless surface of Mars. For a movie that's almost old enough to buy a drink at a bar, it looks pretty good.
I happen to like Wiseman. "Underworld" proved he was a decent world-builder (he was also way ahead of the curve on the whole werewolves vs. vampires thing) and "Live Free or Die Hard" made my list of the best guilty pleasures of the 2000s. He can make a technically competent, extremely stylish, action set-piece laden "Total Recall" in his sleep.
What he'll find harder to replicate are "Recall"'s intangibles: the way Verhoeven's wicked sense of humor dovetailed with Schwarzenegger's love of one-liners (Quaid to his wife after he kills her for her deception: "Consider this a divorce"); the fact that Schwarzeneggger's career to that point made him the perfect choice to play a super-hero uncomfortable with the role of a family man in an action movie about doubles and duplicity. He's also going to be hard-pressed to find as good a cast: Sharon Stone right on the verge of superstardom, "RoboCop"'s Ronny Cox as another slimy bureaucrat, and Michael Ironside at his most testicular. Plus he'll have to contend with the fact that in remaking a great mindfuck a hefty percentage of his audience will walk into the theater ready to be messed with.
That's going to make things an uphill battle. Hence the reason Nolan and Warner Brothers were so uptight about spoilers leading up to "Inception." The secrets aren't the whole movie, but uncovering them is definitely part of the fun. But whether Wiseman's film is a masterpiece or a disaster, no amount of memory implants will take the original away from us.